What is Time Tracking?
In short, time tracking is about making sure you know exactly how much time each of your team is spending on particular tasks. This valuable information can be used to optimise a project as you go along, or be used to decide a budget and team for a new project.
What you specifically decide to track will very much depend on the type of project you are running. One thing any successful company will agree on is that the benefits of time tracking cannot be underestimated. It can be the difference between success and failure. A surprising number of companies are too relaxed about this and often pay the price.
Why use a Time Tracking Spreadsheet?
One of a company's biggest expenses is labour costs. Even in the age of automation we rely on skilled people to make any project a success. But with the ever-increasing costs of living and the need to offer higher rates of pay, it is vital to make sure this money is put to good use and that hours are not being thrown away.
There is a lot of truth in the saying "What gets measured, gets managed". How are you supposed to optimise your team if you have no idea how their time is being used? Introducing time tracking to your team from the beginning will save you a lot of money and stress in the long run.
Time Tracking Templates using Excel
Excel is the go-to for a lot of people, mainly because it is a tool they already possess, and it is something they are already familiar with. Time tracking in Excel may not be the most effective way to do things and there are certainly better time tracking tools on the market, but it is certainly better than doing nothing at all.
Here are some templates we have created for you so you don't have to start from the beginning yourself. You can download each of them and adapt as needed. All templates have formulas built in that will do the calculations for you.
If no particular template seems to fit your needs, you can always pick the closest one and use it as a starting point.
Basic Weekly Hours Template
This is as basic as it gets, but works fine for some small companies with only a few employees. This is less about how the time is being used and more about making sure the employee is fulfilling their weekly obligations. With a really small team, a manager can often observe how the time is being used, so may not feel it is necessary to get employees to take the time to track it.
It is also in the employees best interest to use hourly tracking, as they can ensure they will be paid correctly for their time.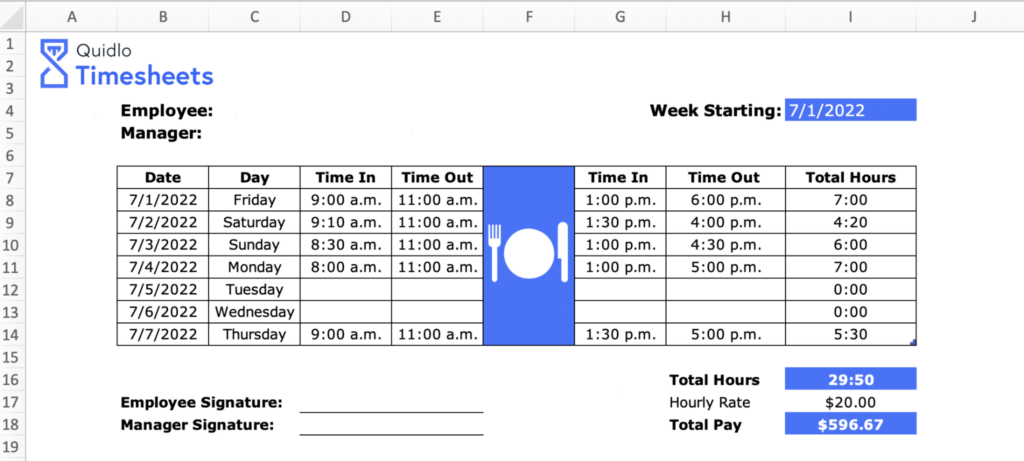 Bi-Weekly Hours Template
The majority of companies will not pay weekly, especially those with hundreds of employees. This template can be adapted for either Bi-weekly or Monthly tracking.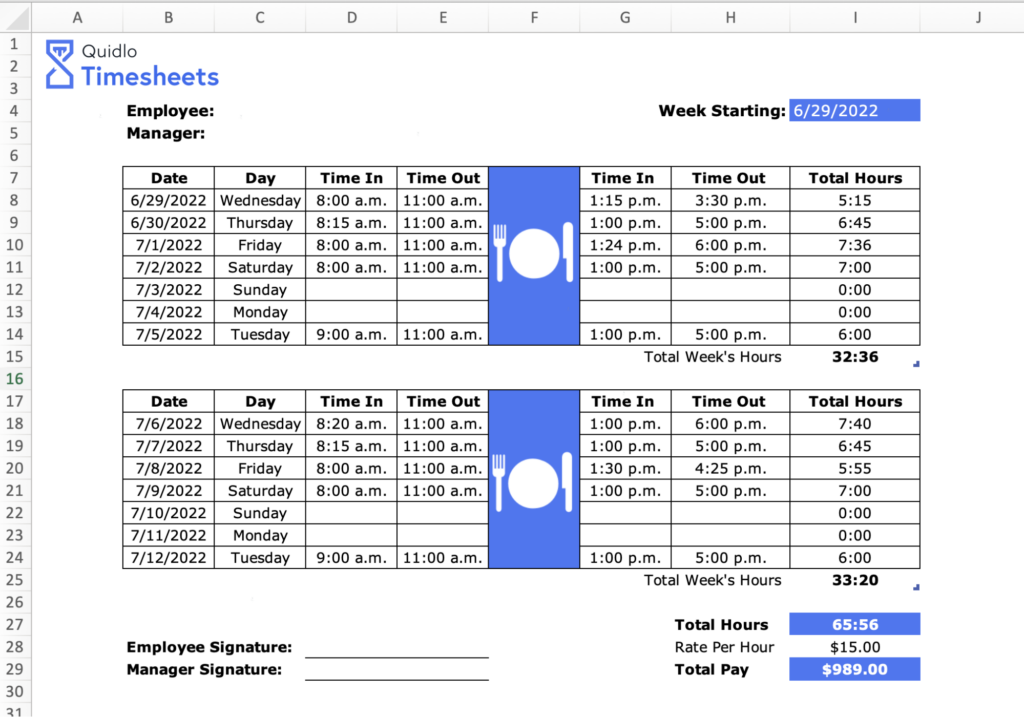 Task Tracking Template
A well organised company with clear goals will not be happy with just knowing how much time their employees spend working. Great management will want to optimise exactly what tasks are getting the most focus. The 80/20 rule states that we should spend most of our time on the 20% of actions that are bringing 80% of the results. You need to track the tasks themselves to gather this type of data.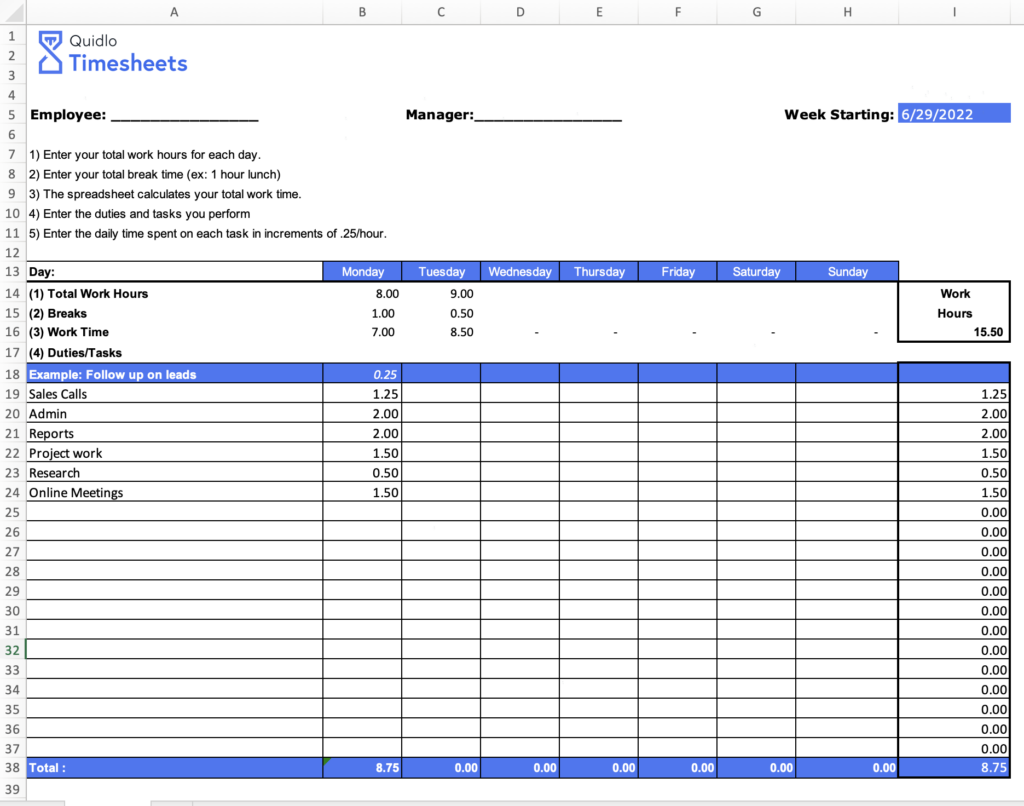 Timeboxing Tracking Template
Timeboxing has become very popular with productivity enthusiasts, and while it is not something you would often find an employer expect from their team, it can be something an individual chooses to do themselves. It is often done using 15 minute blocks, but can be edited for 30 minute ones instead.
This type of method can be used by manually entering in the name of the activity, or colour coding the activity box based on a colour assigned to a particular task. The latter can often be beneficial since you can see at a glance which particular projects or tasks are taking up most of your time.
The priority section can also be colour code with red, yellow & green.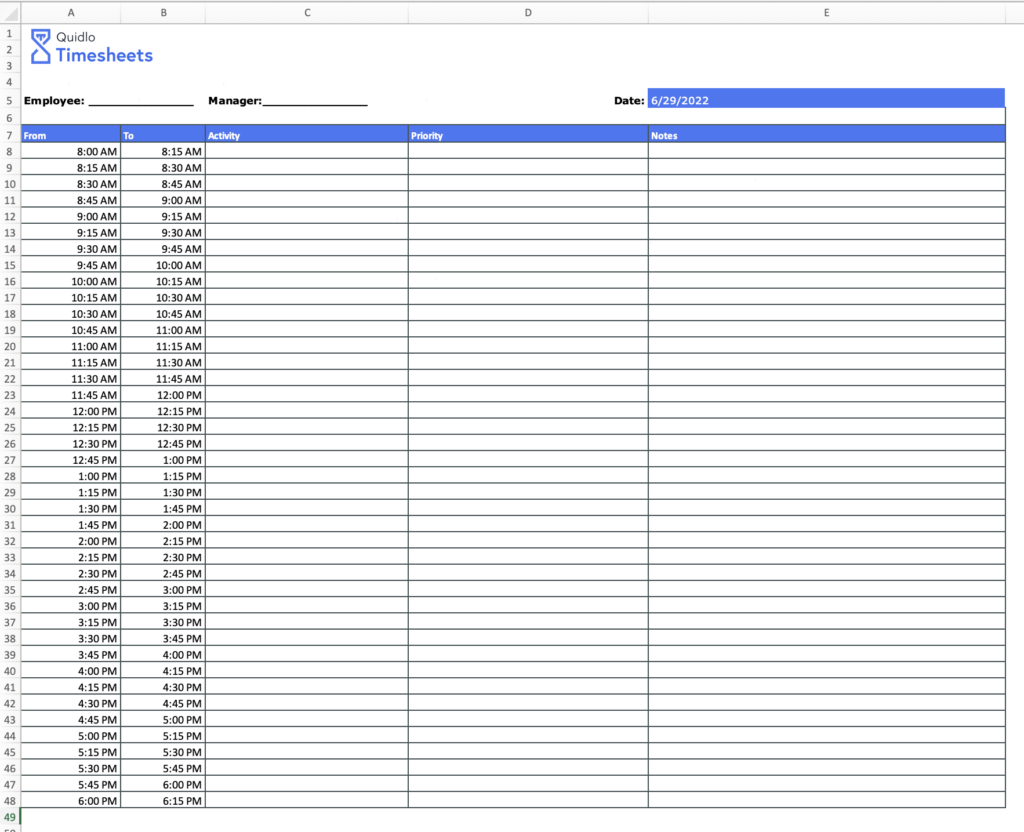 Time Tracking a Project Template
Companies that are offering services to clients need to be incredibly strict in tracking time. Often the time will be billable, so having exact hours tracked is of the utmost importance.
For those who are not necessarily billing by the hour, they still need to make sure that the highest paying clients are getting more of the team's focus and energy. If untracked, too much time could be spent on a lower paying client causing more profitable ones to be neglected.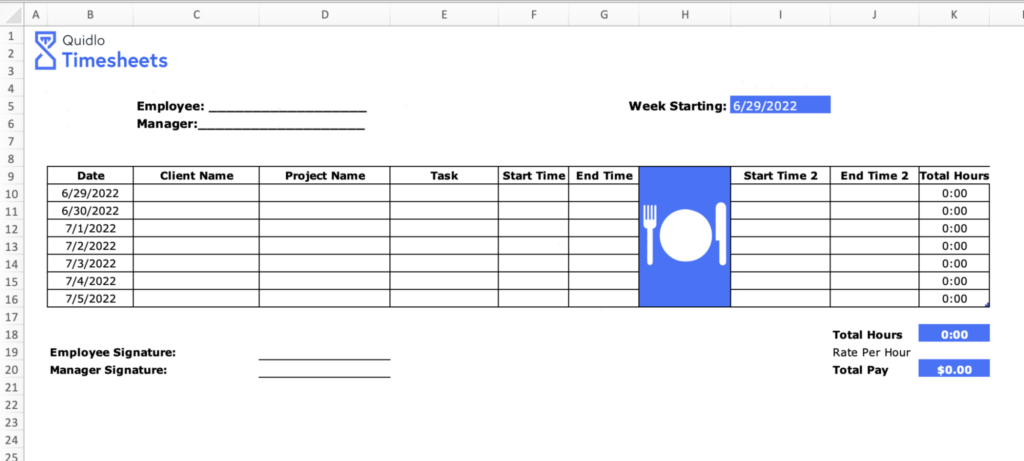 The Cons of Tracking Time with Excel
There is a lot of data entry. Since one of the purposes of having a time tracking spreadsheet is to be smarter about how you use your time, spending too long inputting numbers is counterproductive.
It is easy to make a mistake in Excel. Accidentally deleting formulas is all too common. While you can jump back a step, very often the user doesn't realise at the time that they have deleted a vital piece of information until it is too late. The numbers don't add up and they may not be able to figure out where the error is, or how to fix it.
It is difficult to be very accurate. In the real world we don't start at 9am and work without pausing until lunch. We often have interruptions, or have to be flexible and jump back and forth between tasks or clients throughout the day. Trying to input all this data would be a nightmare, so people who are using basic forms of Time tracking tend to round the number up or down. Over the course of a month there could be a huge discrepancy between report hours and actual time spent.
It is an ocean of numbers. One of the most valuable benefits of tracking time is to be able to look back on it and notice trends. This information can be used to make better decisions in future projects, or pivot the strategy in your current project. These types of things can only be spotted if data is presented in a digestible way. This vital information will often be missed when your only source is pages and pages of numbers.
A More Effect Time Tracking Tool
Excel is a fantastic tool, but as you can see above it comes with many limitations. Time tracking tools have come such a long way, that there really should be no need for manually entering so many numbers.
Quidlo Timesheets is the solution to all the issues you would have with Excel. No matter how big your team is, or how complicated the data you need to monitor, Quidlo Timesheets will track everything for you with minimal effort on your part.
Looking for ways to improve productivity?
Start tracking your time with Quidlo Timesheets. 30-day trial.
No commitment or credit card required.
Just some of the many features of Quidlo Timesheets are:
Time Tracker: Push a button to start tracking a task. You can pause and continue if you are interrupted at any point, so the data will reflect exactly how long you spent on that particular task. You can easily make edits to the times after should you wish to.
Custom Reporting: You can generate custom reports to your colleagues from within the app. No need to export or leave the app to deliver them. It is delivered in a way that is extremely easy to read. There will be no missing important trends that could make or break a project.
Create projects and invite team members: No need to waste time asking your team about their progress, as the data is right there for you to reference whenever you need.
Create roles: You have full control over who has access to what and who can edit information.
The best way to explore all the wonderful features Quidlo Timesheets has to offer is to make use of our 30-day trial. We think you and your team are going to love it.
Happy Time Tracking!