Virtual assistant services help executives, business owners, and entrepreneurs outsource time-consuming and tedious tasks, saving them money and time they can use to run their businesses.
VAs can also help with basic tasks such as handling correspondence and scheduling appointments, writing social media campaigns, and acting as a business's customer support. On top of that, because they can finish tasks managed by numerous employees without being paid benefits or a salary, virtual assistants can save business owners on operating costs.
In our increasingly busy world, entrepreneurs and business owners have jam-packed schedules. That does not leave more time for tasks such as booking travel, answering phones, or managing social media.
When finding virtual assistants, it's essential to pick professional BPO firms whose candidates have training and experience. The Philippines frequently exceeds expectations on the Global Competitiveness Index, which make them an excellent option for communication, content, and outsourcing writing tasks.
Remember that it's impossible to enhance a work-life balance while running your business efficiently, and there is no secret sauce to it.
Still, you may help yourself a bit. All you must do is hire a virtual assistant.
But we also understand that finding one that is an excellent fit is not simple. Thus, we have taken a step forward and reviewed the best virtual assistant companies that can help your search.
👉 Read also: 50 Best Virtual Assistant Software Tools in 2022
This guide will look at more than a dozen virtual personal assistant services companies in the Philippines and pick the best based on price, services offered, ease of use, and more.
Why Hire a Virtual Assistant Company in the Philippines?
The Philippines is one of the top providers of virtual assistants worldwide due to its constantly increasing outsourcing industry. Most Filipino virtual assistants have unique skills and traits that make them excellent.
When looking to hire a virtual assistant company, here are the reasons why Filipinos must be on top of your list:
The Philippines is a top outsourcing spot
The Philippines is the leading destination for business outsourcing. Manila ranked second in the 2014 Tholons Top 100 Destination for Outsourcing. More cities have made it into the list, including Cebu, Davao, Bacolod, Metro Laguna, and Iloilo City.
Traditionally, you must deal with a third party, pay a high markup and go through a business outsourcing company.
Lower labor costs
Many companies, start-ups, entrepreneurs, and business owners work with Filipino virtual assistants because the labor costs are substantially lower.
You can get a good virtual assistant in the Philippines for $350 to $600 a month instead of $2,000 for an assistant from the United States. Most employers also get to save from saving too much on employee office costs and taxes.
Filipinos are culturally adaptable
Virtual assistants in the Philippines are some of the world's most adaptable and flexible workers. Living in an island country and having dealt with foreign merchants and colonizers for hundreds of years, it is innate for Filipino VAs to adapt to their working cultures.
Filipino virtual assistants are hard-workers
In the Philippines, people often value hard work and understand that success comes from doing a great job. They are popular for committing time to do well at work and earn money—they are not new to overtime work, and their hard work is sought in any industry where you can find Filipino workers.
Filipino virtual assistants have a high literacy rate
Did you know that the Philippines has one of the world's highest literacy rates, at 96.2%? Ensuring the virtual assistant you will work with is essential, so someone with basic writing and reading skills put that out of the way.
Filipinos are fluent English speakers
Communication is essential in any transaction, particularly between employees and employers. English is the main medium of instruction in the Philippines and is considered a secondary language.
As a business owner planning to hire a virtual assistant in the Philippines, you are certain to find it simple to give the work and instructions to a Filipino virtual assistant.
The Philippines has the ideal cultural fit
Numerous countries have been influenced by Filipinos' traditions, culture, and overall way of life as they're colonized by Japan, the United States, Spain, and many more. The past generations handed down the social morals and values to the generations next to them.
Being a cultural melting pot enables them to work well with folks from various regions, particularly Western. Also, their exposure to different cultures makes adapting to each client's demands and quirks simpler, making them the ideal virtual assistants for your business.
How to Find the Best Virtual Assistant Company in the Philippines?
Now that you learned the top reasons to hire a virtual assistant Philippines, it's time you learn the important factors you need to consider when finding the best virtual assistant.
When selecting a virtual assistant company, you must take the time to understand the virtual assistant company's offerings and processes. Still, you must look for qualities related to the virtual assistant you'll be hiring.
Transparent pricing without a contract
Business needs and cash flow regularly change, particularly for entrepreneurs and start-ups. Working with a virtual assistant company in the Philippines forcing a client into a long-term contract puts clients in a difficult financial situation.
As an alternative, look for virtual assistant agencies that have transparent pricing without a contract and enable you to adjust as your needs change. Also, you don't like to pay more than your service. It is in your best interest to find a virtual assistant company that provides pricing by the hour rather than a flat monthly fee.
Often, clients and virtual assistants aren't a great fit. That is okay. It happens. Search for a virtual assistant company that knows some people do not mesh well and will happily replace your VA and offer a new one without added effort or cost on your part.
The best virtual assistant in the Philippines has account managers who will communicate with you and help you make changes, so you can concentrate on your business and let them guarantee you have what you need.
Not being able to reach an assistant when you need their assistance is probably one of the most annoying things when you're a business owner or executive. A few virtual assistant Philippines have poor response times and promise to only answer within twelve or twenty-four hours.
Others do not concentrate on response times at all. Search for a virtual assistant company with prompt response times, so you know your virtual assistant will respond to you within a few hours.
Managed virtual assistants
Other virtual assistant companies Philippines are only marketplaces for looking for the assistant that fits your needs. That indicates you must screen every candidate, check their resume, interview them, and go through the same hiring process.
Go for a virtual assistant company that screens every assistant does complete background checks, and saves money and time. Also, matching is another crucial aspect of managed virtual assistants. You want a virtual assistant company in the Philippines that will check in to guarantee you're satisfied with your VA.
Look for a virtual assistant company that allows you to include one or more members of your virtual assistant team when needed. Your dedicated assistant could serve as a project manager and help guarantee on-time, professional completion.
The Best Virtual Assistant Companies in the Philippines
When looking for the best virtual assistant companies Philippines, it's vital to pick a professional BPO company with training and experience. The country often scores high on the Global Competitiveness Index, making it a great option for communication, content, and writing tasks.
No matter where you find your next virtual assistant, remember to invest in dependable tools for monitoring remote employees to guarantee that you spend time properly and effectively.
Helpware
Established in 2015, Helpware is a company taking a modern approach to the outsourcing business. They created a company to transform perceptions of what outsourcing is and can be. We established awesome cultures in their locations and treated their employees better.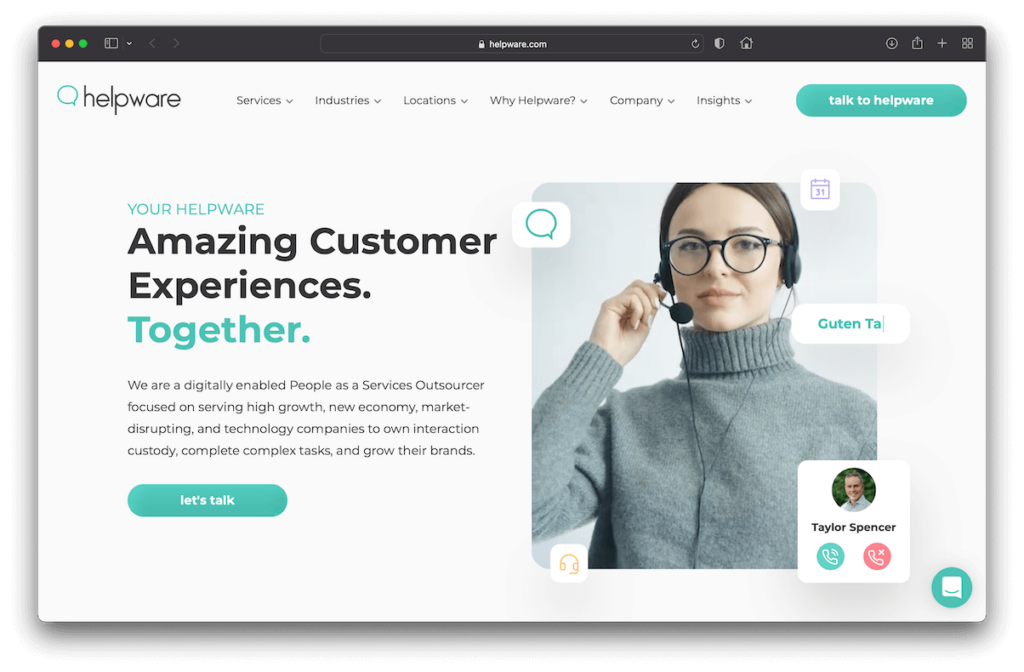 The company has more than seven years of experience in the business and hires a team of highly-skilled customer service representatives. The platform provides multi-lingual services, making it a great option for businesses with global operations.
Helpware also provides a broad spectrum of customer service solutions, such as email support, phone support, live chat, and social media management. The company offers technical support services like data entry, website maintenance, and software development and testing.
Helpware.com is ideal for businesses that require multi-lingual customer service or technical support solutions. The agency's big team of professionals and extensive experience can offer high-quality support for businesses of all sizes.
Remote CoWorker
Remote CoWorker is another one of the best virtual assistant companies Philippines that helps businesses, entrepreneurs, and individuals of all sizes operate with a low overhead cost while gaining the capability to purchase their time.
It allows you to concentrate on the most important tasks of your business while the rest of the workload is still getting done. This agency provides agents that can adapt to any industry and finish any given task.
Unity Communications
Unity Communications is another BPO service in the Philippines, Costa Rica, and the United States. The company's diverse team stands at the vanguard of virtual assistant services for small to big businesses.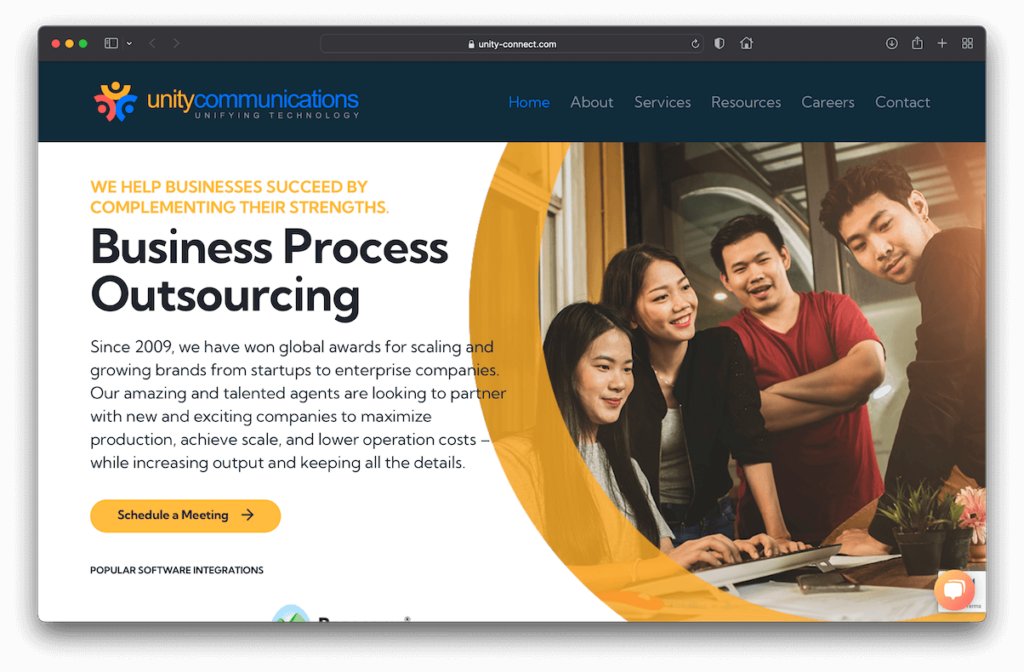 If you need a team to help you with administrative and customer service support, this company is what you are looking for.
The company also offers added support that aligns it with virtual assistant companies. IT support, sales, accounting, and lead generation are some of the top ecommerce solutions of the company.
IdeasUnlimited
IdeasUnlimited is a collaboration of onsite and remote expertise. By staying at the vanguard of innovation, the company has made thousands of success stories that turn businesses into global competitors.
The company provides a broad spectrum of virtual assistant services, call centers, multi-lingual support, and omnichannel services. The focus of their team has been single: offering top-notch results.
MCVO Talent Outsourcing Services
MCVO Talent Outsourcing Services provides custom outsourcing solutions for medium to small-sized businesses in Australia, Canada, the UK, the US, and other non-English speaking countries. With their cost-efficient solutions, you can keep and grow your business despite the industry challenges.
The company was named one of the best BPO companies in 2020 and 2021. With a sales office in Chicago and BPO staff in the Philippines, the company offers virtual assistance, data entry, outsourced IT, bookkeeping/accounting, and digital marketing services that provide both time and cost-efficiency and remarkable quality.
PREMIUMHELP
PremiumHelp is another virtual assistant company in the Philippines with more than decades of experience in the business. The company has earned a name among the best virtual assistant companies in the world too.
The signing-up process is relatively easy. Just contact their sales team and describe your needs, and they will provide a virtual assistant in no time. Also, all their VAs have years of expertise and can finish an array of tasks.
Their clients hire them for services such as bookkeeping, accounts, graphic design, web design, and of course, virtual assistance.
Lambent Outsourcing
Lambent Outsourcing keeps the entire process of moving offshore easy and stress-free and remains focused on providing practical solutions for process delivery.
If you are a leader, creator, or entrepreneur who has a goal and dream, then this company got you covered. Whatever you need help with, Lambent Outsourcing is ready, waiting to stand shoulder-to-shoulder with you.
The company offers managed virtual assistant services for solopreneurs, dropshippers, creators, and micro-businesses.
Staff Outsourcing Solutions
Staff Outsourcing Solutions is another dependable virtual assistant company in the Philippines. Their dedicated VAs can help narrow down your duties and tasks and help you concentrate on the things that matter the most.
Their VA team can also help knock out anything which takes up your time, in exchange, saving you time and money at the same time.
Intelegencia
Intelegencia started operating in the Philippines in 2018. Since then, they have been offering quality virtual assistant services to all their clients through their more than 600 team members across different locations.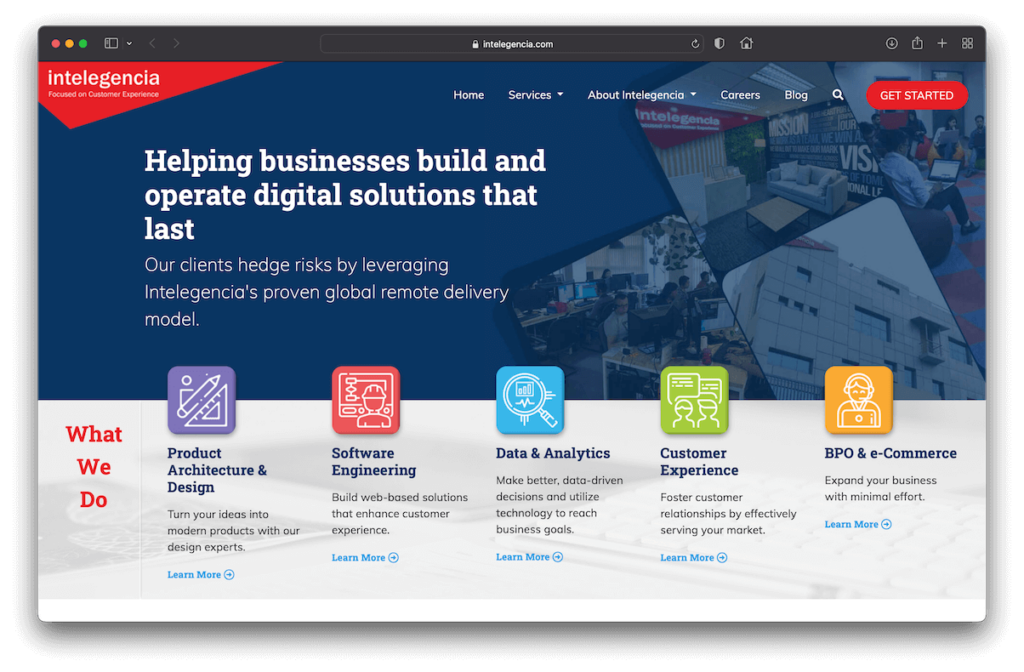 To help companies create and support operations with weather-proof solutions and services resilient to unanticipated risks. They have been recognized by Deloitte as one of the Fast 50 companies.
Cloudstaff
Cloudstaff is another remote staffing solution. The platform has been in business since 2005 and uses a team of skilled remote workers from across the globe.
In 2010, the company expanded operations to the Philippines, beginning with a small team of seven employees, after acknowledging the region as a developing market for BPO services. The company was able to raise both its service offerings and staff due to the successful expansion.
Today, the company hires more than 4,800 staff and contractors across thirteen locations and is expanding at an average rate of 7.5 percent per month.
1840 & Company
1840 & Company is a company with a headquarter in Kansa with hubs in Argentina, Ukraine, India, and the Philippines. That only means their freelancers are situated in over 150 different nations across the country.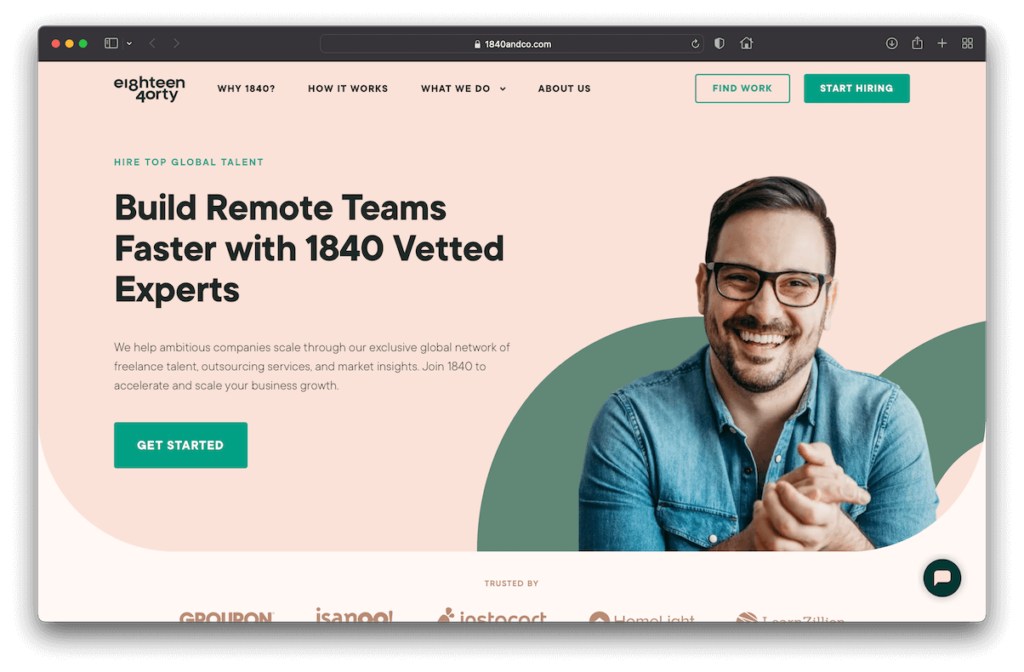 The company boasts of finding the talent to deal with virtually any tasks which can be completed remotely. Some of the categories they can handle include technology operations, marketing operations, finance operations, customer operations, and back-office operations.
1840 & Company doesn't offer any set hourly rates or pricing plans. As an alternative, their pricing solely depends on the virtual assistant, experience, location, and a series of other factors.
Outsourced.ph
Outsourced is also a Philippine virtual assistant company offering full-time remote staff offshoring and also dedicated offshore staffing services.
One of the best things about this company is that you can pick between hiring office-based and home-based staff in the Philippines. How cool is that? With Outsourced.ph, you can easily scale your company easily, quickly, and cost-efficiently with dedicated remote staff in the country.
Have I mentioned that Outsourced.ph is ISO certified and offers the best quality offshoring and BPO solutions? If you only wish to hire the best virtual assistants in the Philippines, you can consider choosing Outsourced.ph.
Benefits of Hiring a Virtual Assistant Company in the Philippines
Hiring a virtual assistant company in the Philippines will offer you insurance so that there'll be no communication or language barrier between the two of you and your clients.
You can be confident that all your instructions will be completely understood and executed, following your customers' requests to offer you and your clients a better customer satisfaction rate.
Accountability and training
Normally, an agency account manager holds virtual assistants responsible for doing work, so you do need to micromanage. The company trains its VAs to a higher standard.
A wider array of skills and services
Virtual assistant companies have more than one virtual assistant, so they can provide a broad spectrum of skills and services than most professionals who work alone. A virtual assistant company in the Philippines often has people who specialize in SEO or social media marketing.
That saves time in putting together a team of professionals rather than employing one person at a time.
Backups for vacation or illness
When you hire an individual virtual assistant, you're accountable for looking for a replacement if that person is on vacation or sick. Nonetheless, with a company, there'll be backups accessible to step in when needed.
That indicates your business does not need to take a hit only because one person is out.
Access to systems, checklists, templates, and training for success
Virtual assistant companies always have access to and are trained to utilize standard processes and tools that make it simpler for you to get the support you need faster. A company can afford robust marketing tools that an individual virtual assistant may not be able to afford.
Most companies offer training templates, checklists, and libraries for their virtual assistants that they can utilize to process your work quickly.
Finding the ideal person for the ideal role is not as simple as posting jobs online. It is like searching for a needle in the haystack, even though others do get fortunate in their search.
Working with a virtual assistant company so appealing is that you'll have access to some of the best talent accessible without searching for yourself.
Companies have a reputation to defend, so they are unlikely to send unskilled VAs your way. They must attract, hire, and retain employees who are the cream of the crop in their respective fields, or their clients will bring their business elsewhere.
Risks of Hiring a Virtual Assistant Company in the Philippines
Keep in mind that a virtual company in the Philippines can be an excellent option for most people, but there are a few drawbacks.
They are normally higher prices than an individual virtual assistant or freelancer. That's because they need to pay people to train and manage the VAs, make and maintain templates, and so on.
Virtual assistant companies can be costly intermediaries because they must cover their overhead costs, including utilities, employee payroll, and office infrastructures. Others may even oblige you to pay a monthly fee whether or not you utilize their service.
You may not always work with the same virtual assistant. That can be a benefit as you have backups for vacation or illness. However, it can also be annoying if the company keeps changing who you work with.
Unable to see the portfolio of individual virtual assistants
You may certainly get access to top talent, but you cannot precisely check on the portfolio of the virtual assistants that work for the virtual assistant company. Chances are, they will only ask you a few questions about what tasks you like them to work on or the type of VA you are searching for.
Therefore, there is still a chance that you will not like the virtual assistant they assign you. Still, that is not a deal-breaker.
Great virtual assistant companies in the Philippines will offer a dedicated virtual assistant, so you normally work with the same one another than for absences.
Alternatives to Hiring a Virtual Assistant Company in the Philippines
You might not know it yet, but alternatives are also available, especially if you don't want to hire a virtual assistant company. This is where freelance VAs and job portals got you covered.
With a freelance VA, you can stipulate your requirements in advance (even though various virtual assistant companies enable you to do that as well). You can hire the ideal worker for your requirements, not only the first available VA.
Freelancers are excellent for one-time projects or fast tasks that need a particular area of expertise, but there are many part-time and full-time freelance VAs with various skills. 
The only negative thing about hiring a VA is that you may not have much recourse when things are not working out. On the other hand, most virtual assistant companies Philippines have satisfaction guarantees or can reassign your task to a new VA better able to complete your tasks.
Freelance and Job Portals to Hire a Virtual Assistant in the Philippines
Finding quality candidates has become so easy that companies who contract virtual assistants can no longer utilize standard recruitment methods such as job portals.
Below we share the most famous websites for finding and hiring the best virtual assistants to help you run your business at a reasonable cost.
Upwork is one of the famous freelancing platforms for VAs, graphic designers, and web developers.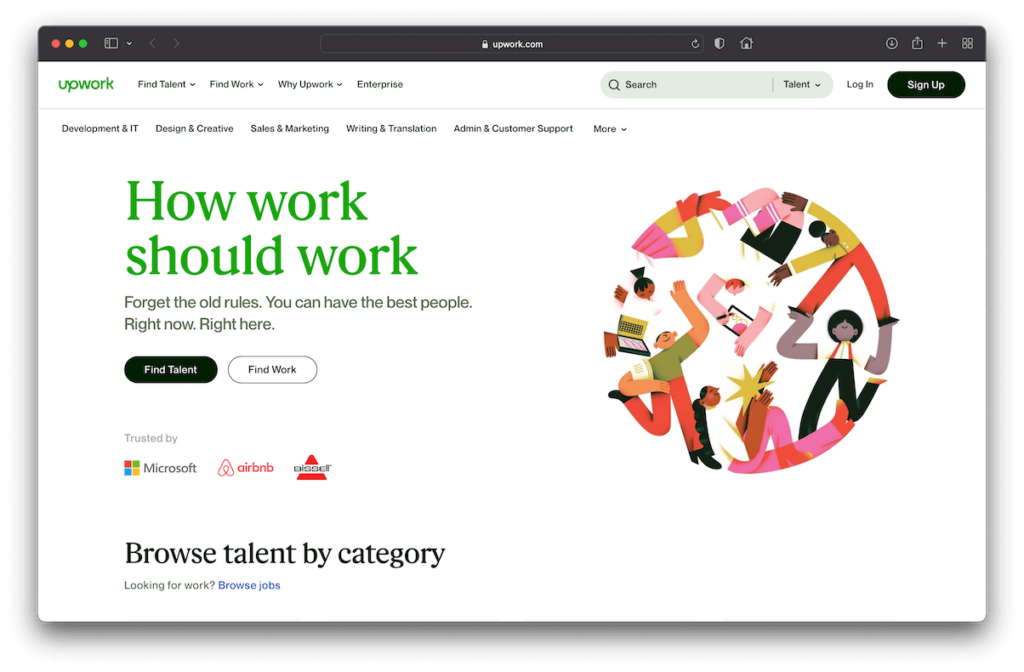 You begin by posting a job with all the desired specifications in the description. The platform assesses your needs and sorts through its thousands of freelancers to pick the perfect fit. You will then get a shortlist of Upwork's candidates for you to select from.
Upwork lets you see every candidate's profile and overall rate, making checking every freelancer's qualification more efficient. You have the power to reach out to a freelancer of your choice, and communicating over the mobile app and web browser is intuitive.
Fiverr is another popular place to find VAs if you don't like hiring a virtual assistant company in the Philippines. It is the main Upwork competitor. More than 100 million buyers have used this platform to hire freelancers across various categories, including software testing, website development, graphic design, etc.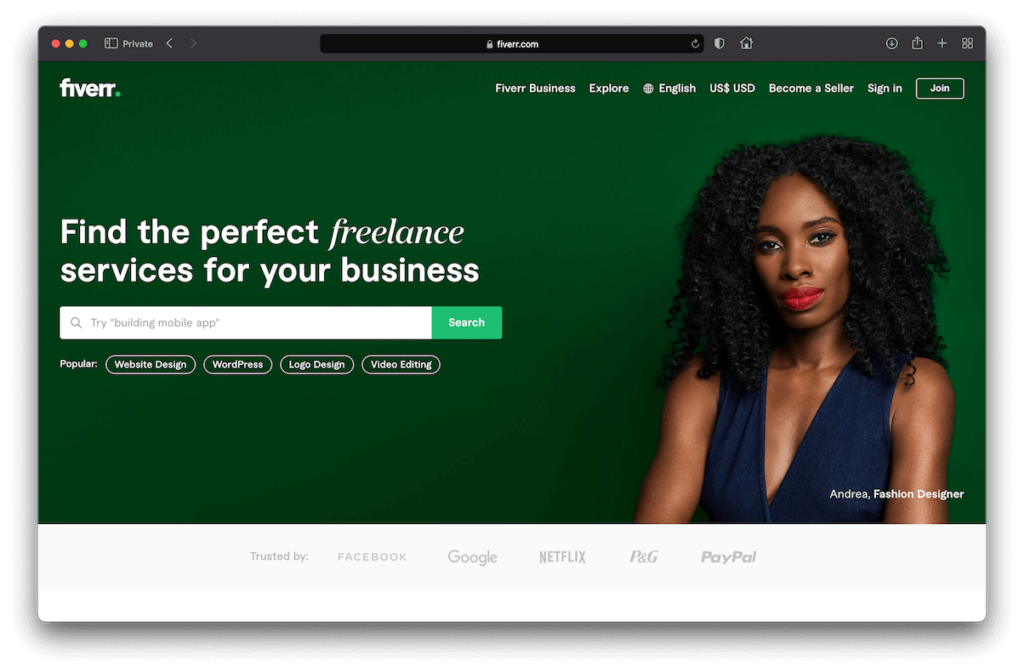 When we talk about finding and hiring VAs, Fiverr is unmatched. The platform lists a broad spectrum of American-based freelancers who can provide excellent services at reasonable prices.
Many VAs on the platform will sell their rates between $5 to $10, depending on the work they provide. You can use Fiverr virtual assistants for a broad spectrum of projects like administrative and social media management tasks such as research, making invoices, and responding to emails.
Guru.com is another platform where you find freelance flair in whatever field you are searching for. The Pittsburgh-based agency is one of the original freelance websites, established in 1997.
OnlineJobs.ph is the perfect place to find skilled and committed VAs from the Philippines. Established in 2008, the platform has become the biggest online marketplace to find specialized talent or Filipino virtual assistants.
The platform is distinct because it just showcases the skills of remote workers in the country, which comes with numerous benefits. Many Filipino employees speak English, making it simple to communicate about projects.
They are also some of the most dedicated and hard-working talents and have lower rates than some American freelancers.
Outsourcely is another website where you can hire VAs. The platform connects various part-time and full-time workers to the companies that hire VAs. The site enables employers to hire freelancers and pay their hires directly.
This is yet another popular freelance marketplace connecting you with proficient VAs from around the globe, including the Philippines. Outsourcely enables you to review a list of available VAs and even tone down your search using filters like experience and skills.
This platform is another virtual assistant site that is focused only on the Philippines. VirtualStaff.ph has placed close to 3,000 business leaders in touch with employees from around the nation, offering them efficient and bespoke services at reasonable prices.
The website does not just provide virtual assistants, but it also connects them to business owners seeking to employ graphic designers and web developers.
If you are interested in a freelancer with business development technical know-how and skills, check out the platform's extensive resume directory of candidates ready to be employed for your project.
Virtual Staff Finder is based in the Philippines, featuring over a decade of outsourcing experience. They suggest employing a VA to concentrate on growing your business rather than doing busy work to keep it.
You can find a virtual assistant with this platform in easy steps: sign up, source, test, interview, and hire. The site will help you describe your job description, choose and test qualified candidates, and send you the top candidates for the job listings.
Cost of Hiring a Virtual Assistant in the Philippines
Hiring a virtual assistant in the Philippines will cost between $3 to $5 an hour. The VA cost will depend on the work you expect the professional to do. Hiring a virtual assistant for low-administrative tasks or miscellaneous services like SEO, marketing, and research will average $10 to $15 per hour. Executive-level virtual assistant services could average $15 to $20 an hour.
The advantages of hiring a virtual assistant in the Philippines than a permanent employee include the cost savings from paying an employee when you need them and not having associated auxiliary costs like benefits and insurance.
Virtual assistants are an excellent option for companies that need help to flourish but can't handle the cost of a full-time staff. Hiring VAs from inside the Philippines can offer a part-time solution with a high success rate.
Final Words
There you have it! In this article, we have listed the top virtual assistant companies you can hire in the Philippines. All the recommendations above have an array of features that will help you choose and hire the most talented individuals who will get the task done no matter what.
So, what are you waiting for? Choose one of these virtual assistant companies today and solve all your human resource-related problems without breaking your bank.
1