Engaged employees lead to productive and efficient work, while satisfied employees lead to less turnover and more profitability.
Though many companies may know this, they often struggle with achieving high levels of employee engagement and job satisfaction. Thankfully, there are many studies and statistics out there that can help shed some light on what works (and what doesn't).
At Quidlo, we scoured the internet and found 35 insane employee engagement and job satisfaction stats from around the world and picked apart what they mean. We hope that by understanding these numbers, you can start creating a plan to drive high employee engagement and improve your own workplace!
Ready? Let's go.
What is employee engagement and job satisfaction?
Before we dive into job satisfaction data and employee engagement statistics, let's quickly look at what each of them means.
Employee engagement is defined as "an emotional connection an employee feels towards their work, workplace, colleagues, and company that influences their motivation to contribute to organizational success." It's about how involved your employees feel and how motivated they are to do their best work.
Job satisfaction, on the other hand, is "the overall satisfaction that a person feels towards his or her job. It's based on factors like pay, benefits, career development opportunities, and recognition.
Why both employee engagement and job satisfaction are critical in the workplace
Employee disengagement costs the U.S. Economy $450-550 billion every year. When employees are disengaged, they're not working as hard or as efficiently as they could be, resulting in decreased productivity and revenue losses.
A highly engaged workforce increases profitability by 21% (found in another study by Gallup). If you're in the business of making money, then you must be in the business of creating a healthy, balanced, and productive work culture that encourages employee engagement and collaboration, which yields better company-wide results.
There's less turnover. Did you know that 73% of workers would consider leaving their jobs for the right offer? Employees who are engaged and satisfied with their job are more likely to stay with the company for longer periods of time, resulting in less disruption in the workplace. That means less time and money spent hiring and training new staff – especially if it's a highly technical position that could take months.
Attract more talent. A positive workplace helps attract top talent to your company. People are more likely to apply for jobs where they know the working conditions are favorable, and will stay in those positions when they find it fulfilling. Another underrated by-product is the positive word-of-mouth that will build a great company reputation, which can have an impact beyond just hiring.
What factors impact employee engagement & job satisfaction?
Let's take a quick look at the biggest influencing factors (with the numbers to back it up) for what impacts how engaged and satisfied an employee is with their job.
It's also worth noting that a CNBC poll of 7,940 workers found that 18% credited their on-the-job happiness to autonomy, 15% said opportunity, and 12% said recognition. But the numbers do vary by age – take a look at the graph below: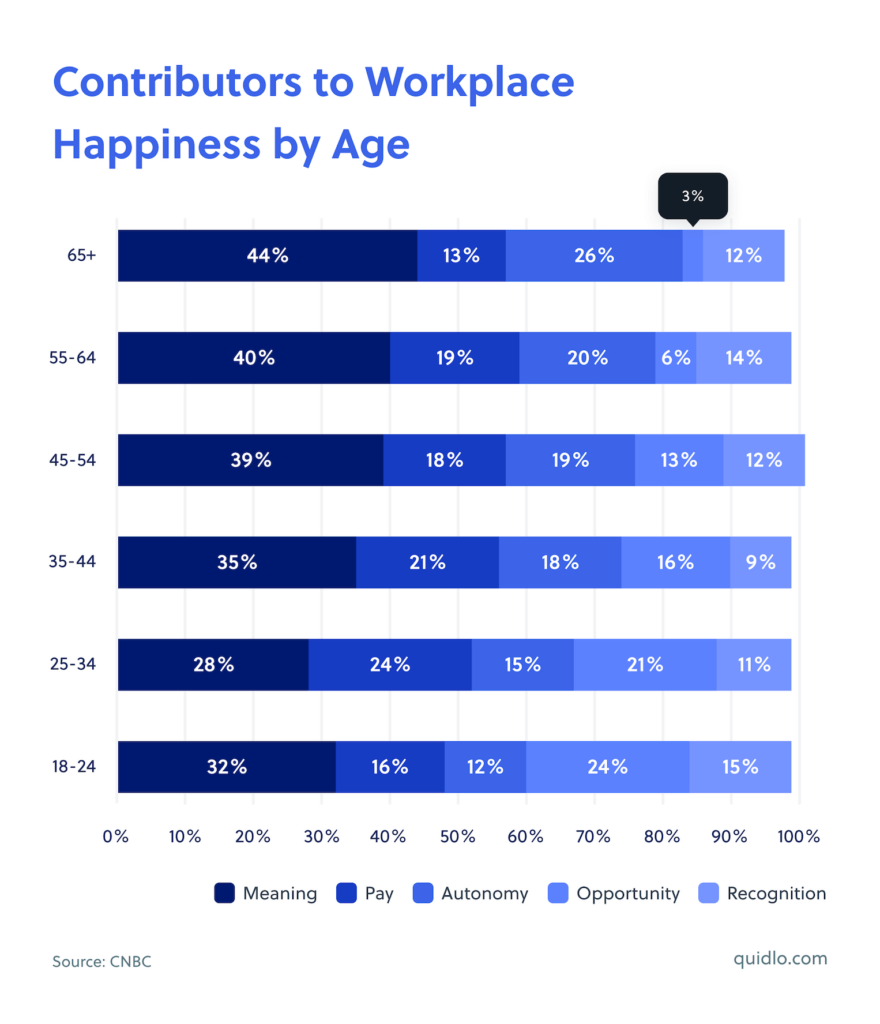 The manager: A great manager is the glue that holds your team together and creates a positive working environment. They can help foster relationships, provide timely feedback, and create meaningful projects for employees to work on. Having strong leadership sets the tone for everyone else in the organization – for example, managers need to exhibit the behaviors and skills that encourage employees to go that extra mile.
Salary: The money is what keeps the bills paid, family fed, and lives secure, so it's no surprise that a competitive salary can translate to higher job satisfaction. The CNBC poll we just mentioned above also found that 20% say their salary is among the most important for on-the-job happiness. This is further backed by another finding by the Pew Research Center that revealed employees who make $75,000 per year report higher job satisfaction than those who make less than $30,000.
The job itself: A stimulating, meaningful job is essential to keep people engaged and motivated – in fact, you'll notice in the table mentioned earlier that 35% of employees said the meaningfulness of their job made them happy. Make sure employees are given challenging tasks with clear goals, expectations, and results – this will help them stay focused, productive, and interested in their work.
Worker benefits: You want to make sure you have competitive incentives that set you apart from other employers in the same industry. In Metlife's 20th annual U.S. employee benefit trends study, 79% of employees say health insurance and a 401k (or other retirement plan) are must-haves. And regarding non-insurance benefits, 40% say paid time off is at the top, followed by flexible/remote working options (30%), and fitness/healthy lifestyle incentives (17%).
Interestingly, some benefits are more important than others based on gender. For example, women (44%) are more likely than men (39%) to leave their current job for a new one with a flexible work environment. However, men (40%) are more likely to leave their current job for a higher position in a different company than women (30%), suggesting that better-ranking positions tend to motivate them more than flexibility – and vice-versa for women.
Parting Words
When it comes to employee engagement and job satisfaction, there's no one-size-fits-all approach. Companies must tailor their strategies and benefits packages to their unique work culture in order to create an environment that encourages employees to stay motivated, engaged, and satisfied with their position. With the right mix of owed respect and earned respect, along with the right benefits package, companies can ensure their employees feel valued and appreciated.
Quidlo is here to help! Our employee time tracking software allows you to track the time your staff spends on tasks so that you can get a better understanding of their performance and productivity levels. It's easy to keep tabs on your employees' hours and ensure they're getting the respect and recognition they deserve.
1