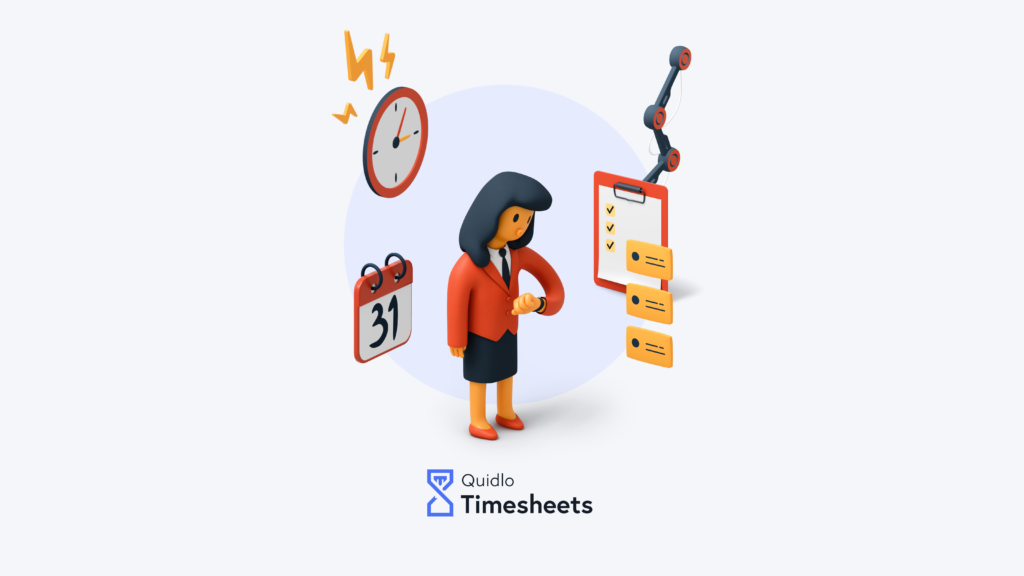 Time tracking is the process of recording the working hours of employees, freelancers or contractors, most commonly to ensure that each individual is paid accurately for their time worked. Time tracking is used by leading businesses from all different sectors, and can be broken down into three core areas:
Time entry
Approval
Data and reporting
What tools to use to track time
Nowadays, time tracking is usually handled by digital software, such as Quidlo Timesheets, which can have huge benefits for many businesses. Time tracking apps remove all the manual admin work out of the time tracking process and take care of your project organisation.
Apps like Quidlo Timesheets, often come with helpful built in features that make time tracking both easy and informative of future business decisions. Features typically include built in timers, the ability to manually add time, shareable reporting, project and task organisation, user and permission management.
Check out some other great tools you can use to help track time here.
Here's why time tracking is so important for managing teams and projects:
1. Improves productivity
One of the key benefits of time tracking is that it allows your team to work more productively. By assigning specific tasks and timeframes to each employee, they will have a clear, focused workflow which will help keep them motivated and on track.
Time tracking also allows individuals to optimise their time spent working. By breaking projects down into set tasks and measuring the time spent on them, we can learn exactly when we are most productive. Time tracking is essentially a way of holding up a mirror to how we work. For example, a freelancer may find that he gets far more tasks completed in the late evening than he does in the morning, as he is typically more energised later in the day. He could then adjust their work schedule to make sure that any more difficult or urgent tasks could be handled in the evening, while simpler ones could be completed in the morning. Or, a manager could use her team's time tracking data to learn that a lot of her staff are spending an unnecessary amount of time answering emails. She could then help put processes in place to ensure her colleagues spend less time on emails, and more time working on important projects.
Making informed, positive changes to workflows and schedules can be the key to a productive team, and time tracking gives you the data and means to do so. Find out some other key ways you and your team can increase productivity levels and avoid procrastination at work.
2. Greater transparency and better client relationships
Time tracking not only benefits your staff internally, but can also help you to develop and strengthen relationships with your clients. When it comes to billing your clients, being able to present them with accurate data on how work has been completed helps create a better relationship built on transparency. Your clients will be able to see exactly how much they are paying for, and how much time has been spent working.
3. Accurate and efficient billing
Time tracking makes billing clients and hourly workers far more efficient. By tracking billable hours, you can pay employees or charge clients for the exact amount of time worked. Many time trackers include built-in stopwatches and the ability to mark hours as billable or not, making this process easy. For example, you may be working an extra hour each week to complete a project. Time tracking can help you identify this and make sure that extra hour is added to your invoices.
Additionally, relying on time tracking means you'll need to spend less time checking how much time has been spent. Recording your time as you work means you'll have much more accurate information and less rejected timesheets from your team. Many time trackers also allow you to automatically generate invoices from your tracked hours, which is a handy way to save time.
Time tracking is also a great way to calculate future costs and get a clear understanding of how much projects will cost in actuality. It allows you to precisely estimate hourly rates from your data, so that you know exactly how much budget you need.
4. Better teamwork and accountability
Teams can really benefit from time tracking as it helps to improve communication between colleagues, especially with remote teams. Each individual will be able to share and view timesheets from others to learn more about what they are working on and how projects are progressing. Time tracking gives employees insight into each other's work schedules and in turn allows them to gain a better understanding of why something may not be progressing, who's working on what, and how they can help.
Time tracking also helps hold each individual more accountable for their work. Many time tracking apps allow managers to easily access their team members timesheets. This encourages employees to take responsibility for meeting their deadlines and completing required tasks throughout the day.
5. Improves employee wellbeing
When it comes to hybrid and remote working, many people fall into the habit of overworking. With no physical office and in-person contact with other employees or managers, it can be difficult to spot those that are overexerting themselves.
Overworking typically leads to burnout and high stress levels, so catching this early on is incredibly important for the wellbeing of your team. Tracking how long everyone spends working each day can help you quickly highlight anyone that is putting in more hours than required of them.
Additionally, time tracking can help remote and flexible employees clearly communicate when they are not working and set clear boundaries, helping others to work around each other more effectively. Tracking personal time off can also help encourage team members to take time away to de-stress. This not only benefits the wellbeing of your employees, but also helps improve your team's productivity levels.
6. Better prioritisation
Poor prioritisation can be a huge problem for businesses, but it is an easy trap to fall into. Unplanned tasks, constant notifications and colleague requests can often get in the way of the tasks that really matter.
Time tracking is a great solution to this and can help encourage better prioritisation. Most time tracking software allows you to easily identify the most urgent tasks and streamline workflows to ensure all time is spent wisely. For example, Quidlo Timesheets allows you to organise tasks into projects, and shift things around in order of priority.
7. More informed, data-driven decisions
Any decision you make when it comes to your business or project, should be an informed one. Time tracking is a fantastic way to generate helpful data that allows you to make better decisions. It allows you to see how long specific tasks or projects take, so that you can plan future activities accordingly. It also allows you to identify any problem areas, like blockers or bottlenecks, and then make decisions to correct them.
8. Focused working
Multitasking can be a great skill to have, but it is also one that can quickly result in employees feeling overwhelmed. When there is a huge list of things to complete and no clear priority structure, many try to complete multiple tasks at once. This has a negative impact on the individual's well being, the quality of work and overall productivity. By organising tasks by priority and assigning each to a set team member to work on, time tracking helps prevent multitasking and promotes more focused working.
9. Efficient employee management
Time tracking is a great way for companies to manage important HR related tasks. As well as helping to accurately pay employees or contractors, time tracking can help HR managers to identify any improvements that are needed to help benefit the productivity and wellbeing of the team.
Time tracking can also help with the hiring process by calculating how long future employees will need to work to complete specific tasks.
In summary, time tracking is an incredibly useful tool for businesses, in particular those that work remotely, flexibly or hire contractors. It not only helps improve billing accuracy, but also promotes better employee wellbeing by encouraging productivity, while allowing individuals to set work/life boundaries and avoid overworking.
0