Employee productivity is a concern for business owners and managers. It's an even bigger issue in the modern world of remote and hybrid workplaces. Time tracking apps help ensure workers are using their time efficiently. Time tracking is the process of measuring working hours to determine how much time you spend on various tasks. It also ensures billing, payroll, or budgeting is accurate.
The benefits of time tracking include increased work productivity and simplified time collection and analysis. In the past, employers tracked time manually – on paper or in excel spreadsheets. These tools were time-consuming, error-prone, and didn't provide actionable insights into productivity and performance.
Advances in business technology have made it possible for employees to automate the time tracking process with powerful apps that accurately track project timelines and budgets, calculate payroll, create reports, and much more. That's why 74.8% of global organizations invest in productivity products like time tracking tools.
Having the right tools is hence critical. And two of the best-known time tracker apps in the market are Clockify and Toggl. Both promise easy and accurate time management, but which one should you choose?
This Clockify vs Toggl guide will give you a detailed comparison of these two popular software products and offer a powerful alternative. We will contrast their features, prices, and benefits to help you select the right tool for your business.
What is Toggl Track?
Toggl Track is a cloud-based time tracking app that offers manual and automated monitoring across multiple devices. You can also track time offline and sync later. A key attraction of Toggl is the Pomodoro timer which enables managers to set time limits on various tasks.
Based on the Pomodoro technique of time management, you choose a single activity to work on, setting a timer for 25 minutes of uninterrupted focus. When the timer goes off, you take a break for five minutes. That's one Pomodoro. Start the process again until you complete the activity.
Toggl tracks time on the apps your teams use. With a clear breakdown of how much time employees spend on each task, you can quickly identify bottlenecks and make suitable changes to improve productivity.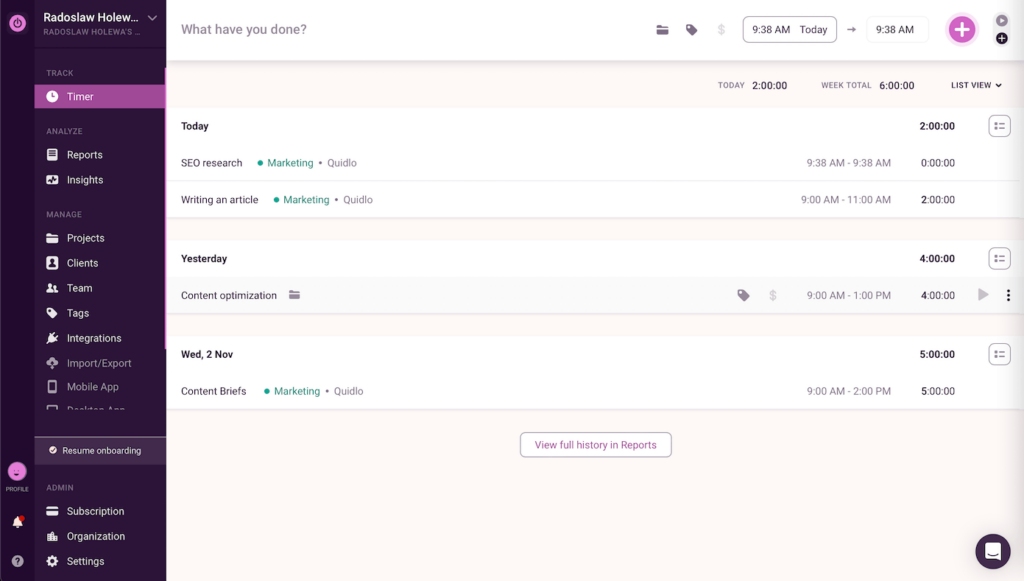 The Toggl dashboard above shows the timer at the top of the screen. Users enter the name of the task they're tracking in the 'what are you working on?' field and click the purple play button to start recording time.
Next to the tracker are a folder, a tag, and dollar sign icons. You use the folder icon to attach tasks to specific projects, the tag icon to tag the activity, and the dollar sign to designate billable work to be invoiced.
Other core features include:
Billable rate management
Project management
Team management
Reports
Businesses of various sizes can use Toggl Track, but small teams and organizations are more suited for the app since it doesn't have a timesheet feature.
Freelancers with growing client lists can also benefit from the app's tracking features on the free plan. The platform also has a project management software – Toggl Plan – adding to its suite of productivity tools.
Toggl is available for the web, desktop (Windows, Linux, and Mac), and mobile, with apps for android and iOS.
What is Clockify?
Clockify is another time tracking app with a Pomodoro timer, allowing managers to specify the time duration of each project or task. You can also monitor the apps teams use and for how long.
Sound familiar? That's because Clockify was inspired by Toggl.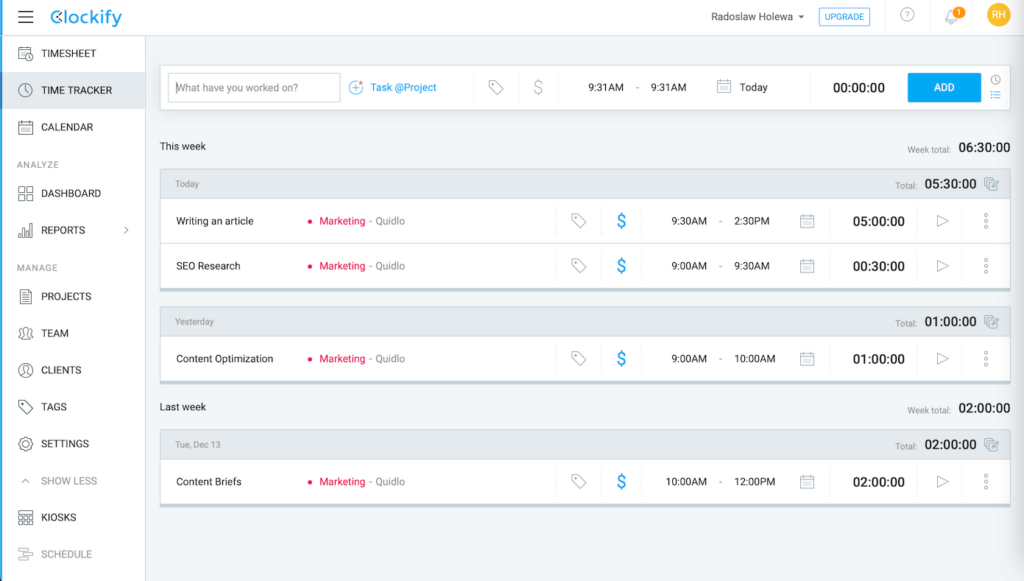 But there are a few things that set Clockify apart from Toggl Track. One, it has timesheets, allowing team members to track work hours across multiple projects. Two, it offers workforce management features like clock-in/clock-out and time-off, enabling managers to track employee attendance conveniently.
On the Clockify dashboard above, the time tracker is located at the top of the screen. Users enter the task they're tracking in the 'what are you working on?' field and click the blue start button to begin recording time.
From the same menu panel, you can add the tracked task to a specific project, tag it, and mark billable time.
Other core features include:
Expense tracking
Billable rate management
Reports
Invoicing
Location tracking
Time off management
Like Toggl, businesses of various sizes can use Clockify. However, large organizations and project teams will benefit the most from it.
It supports unlimited users on every plan and has workforce management features like attendance and leave management. Even though Clockify targets enterprise customers, it offers a forever free plan freelancers can use.
The company that makes Clockify, COING Inc, also has project management and team communication platforms – Plaky and Pumble – rounding out its suite of productivity tools.
Clockify is available as web, desktop (Windows, Linux, and Mac), and mobile (android and IOS) applications.
Clockify vs Toggl: In-depth feature comparison
On the surface, there doesn't seem to be much difference between these time tracking apps. However, an in-depth feature comparison reveals differences that may help settle the Clockify vs Toggl debate.
Feature Comparison
Let's break down the Clockify vs Toggle main features and see what each employee time tracking tool has to offer:
Time tracking
The primary function of Clockify and Toggl is time management. Time trackers monitor what people do with their time and how long tasks take. This insight can help managers and workers identify strengths and weaknesses and provide support as needed.
Here's a look at how each app does this.
Clockify
Clockify's time tracking feature is easy to use. Users enter the name of the task they're working on and click the 'start' button to begin tracking time. When the activity is complete, they click the 'stop' button to end the recording.
Below the tracker, you can see time entries of tracked activity which you can edit and add hours and mark as billable. However, managers can deploy the force timer to prevent users from manually adding or editing time entries.
In addition to tracking time on tasks, Clockify has a workforce management feature that tracks attendance. Along with timesheets, this makes the payroll and billing process easy and more accurate.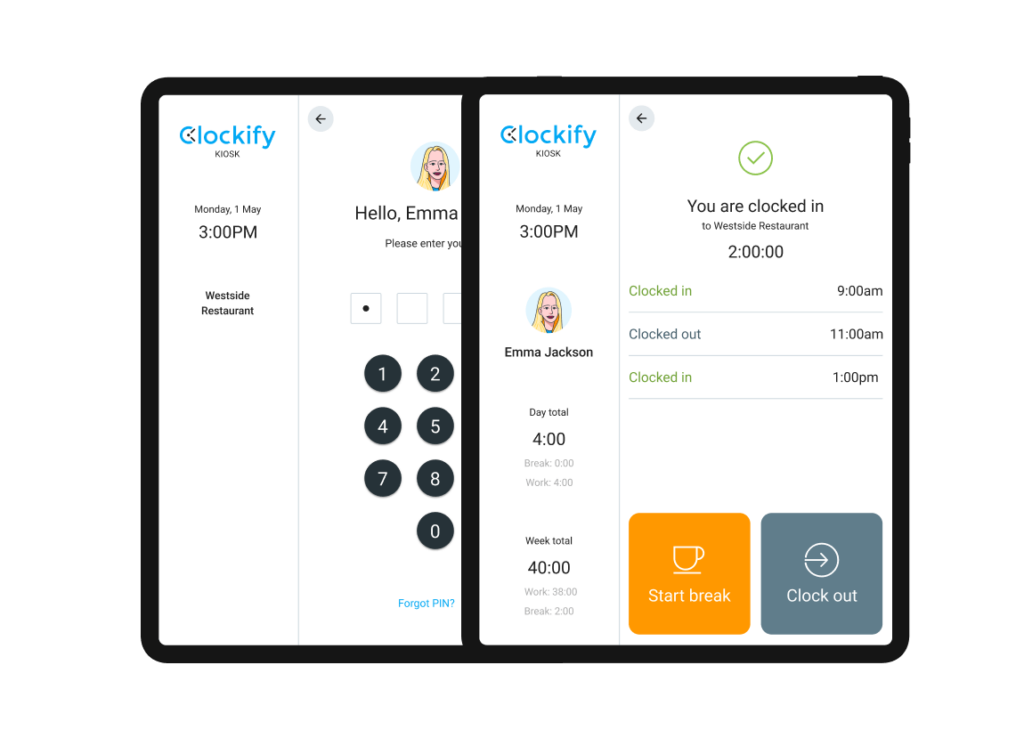 Above is an example of the time clock found under the Kiosk tab. Employees clock in/out here for the day or during breaks. You can create various kiosks for different locations or projects and assign teams to them.
Toggl
Toggl's time tracker is also easy to use. Enter the name of the task you're working on and click the play button to begin tracking time. When you complete the task, click stop to end the recording.
Below the tracker, you can see your time entries which you can edit and mark hours as billable.
Along with manual tracking, Toggl offers automatic tracking. The automated feature kicks in when users type certain words or open specific programs. For example, a video editor opens the video editing project. Toggl also has offline tracking.
Key takeaway: You can track time manually on Clockify, while on Toggl, it is both manual and automatic. Clockify's automatic tracker only tracks the apps or websites an employee visits after starting the tracker. Further, Clockify has an additional time tracker feature to manage workforce attendance.
Project Management
An important part of managing projects is tracking costs and timelines. Both Toggl and Clockify provide these project management functionalities to help managers monitor project progress, meet deadlines and stay within budget.
Clockify
Clockify helps project leaders manage timelines and budgets of individual projects. Specifically, project managers can:
View tracked time vs. timeline estimates to determine whether corrective action is needed to meet deadlines.
Categorize time and tasks as billable or non-billable, ensuring projects remain within budgets.
View the progress of assigned tasks to identify who is struggling and offer appropriate support to improve employee performance.
Below is a screenshot of Clockify's project dashboard.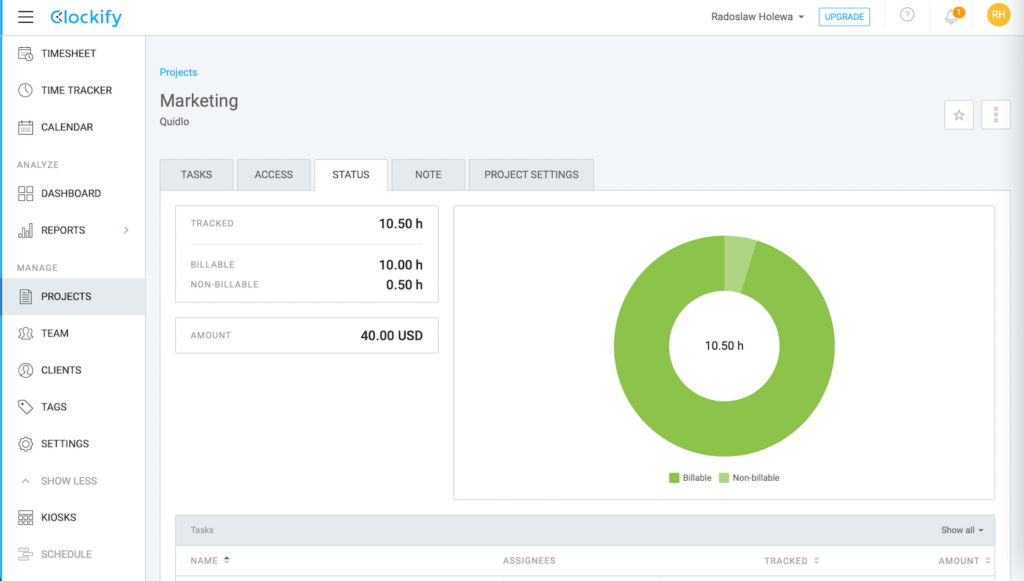 The Clockify dashboard displays the project status. At a glance, you see the total tracked time, how much time remains, and how much time is billable vs. non-billable. You also get a breakdown of each task, including the assigned employee and how much each task has earned.
Toggl
Similarly, Toggl's project management feature helps project leaders manage timelines and budgets. However, it has the added benefit of project forecasts. Using historical tracking data, Toggl helps managers determine whether the project is on time and within budget.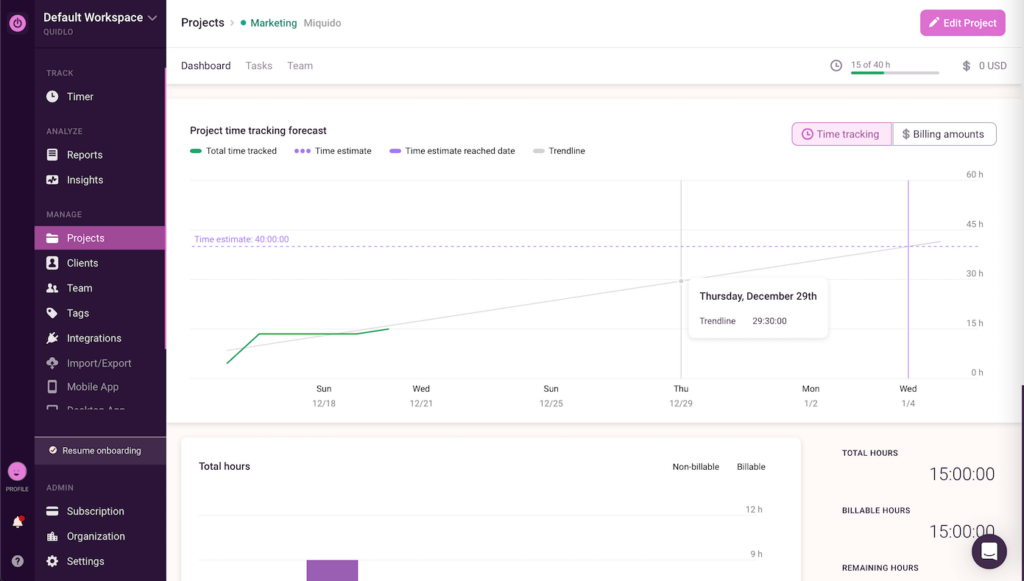 The Toggl dashboard above shows the number of tracked hours against the project's planned completion date. The estimated time is the purple dashed line, and the total tracked time is the solid green line. The gray line marks the forecasted timeline. According to the chart, this project is ahead of the forecasted schedule.
The visual overview of the tracked time and billing amounts charts helps managers identify and address issues early. Toggl also has an alert feature to notify project leaders when the project reaches designated milestones.
Key takeaway: Clockify's project management feature tracks team performance, while Toggl tracks the overall project's performance
Team Management
Clockify and Toggl are designed with teams of various sizes in mind. They have a dedicated tab for team management, but how do they compare?
Clockify
Clockify's team dashboard breaks down the total time tracked by teams. It lets you see what your team is working on and helps identify which tasks take the most time.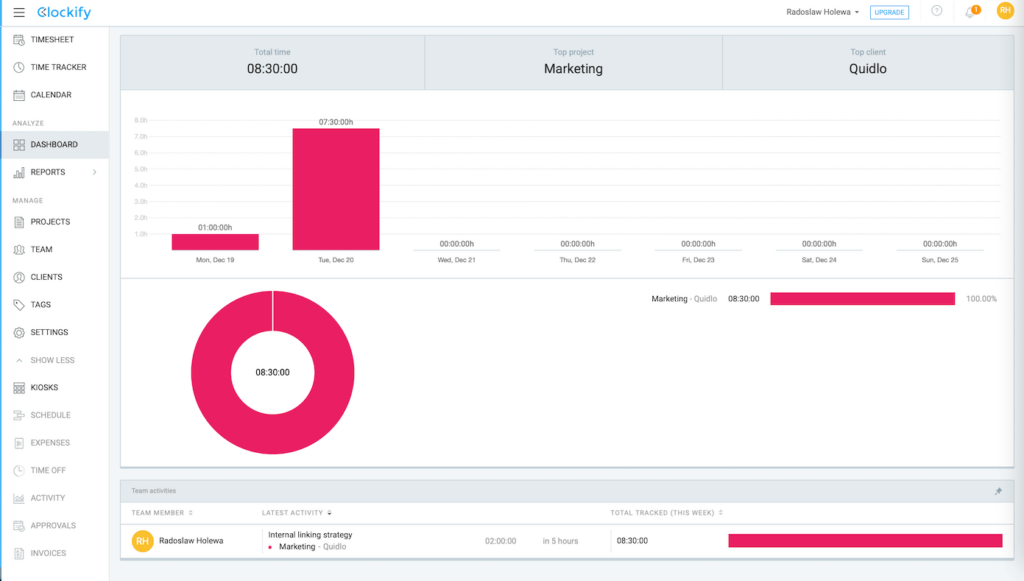 The team activity dashboard above shows the total amount of team members' tracked time, as well as what they are working on. You can sort the table by total tracked time or the latest activity.
The calendar feature helps managers visualize team members' activity to see who's available, busy, or overbooked. You can also schedule employees to fill gaps.
Toggl
Toggl helps you manage your team with user rights, allowing you to assign members to specific workspaces and control who has access to which data.
For example, regular users can view reports on their own tracked time, while managers can view all tracked time under their projects. Workspace administrators can view tracked time for all projects.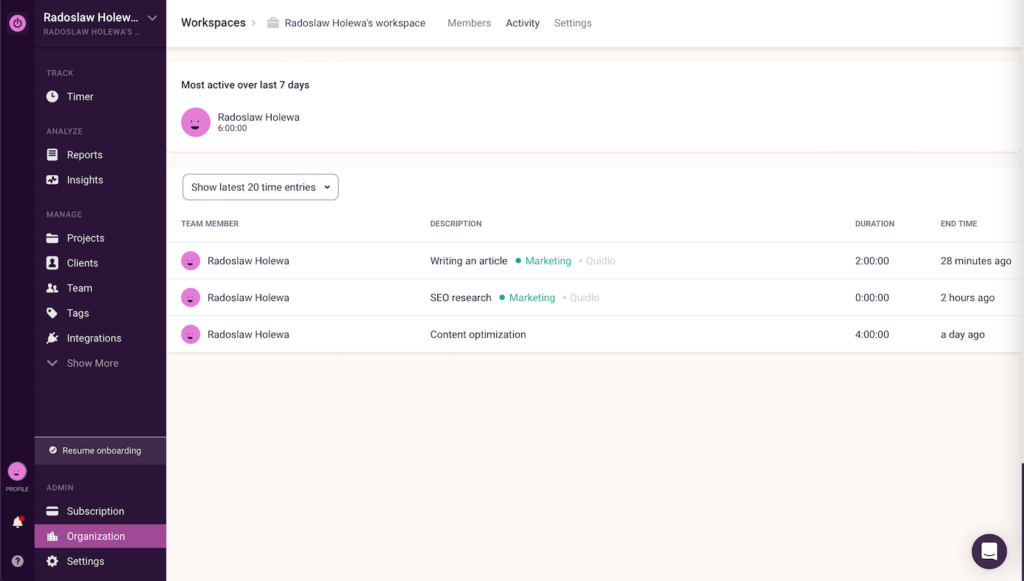 Above is the manager's dashboard view of team activity. It lets you review entries your team created. The top panel highlights the most active users, and you can sort data by user using the dropdown menu.
Other management features include automated tracking reminders for members who haven't completed their targeted hours, required fields to prevent incomplete time entries, and locked entries to ensure complete and accurate reports. You can also create rosters, ensuring optimal coverage for all shifts.
Key takeaway: Clockify's team management feature provides better insight into what your team is working on and how long it takes them. On the other hand, Toggl has features to manage workflow better.
Reporting & Analytics
One of the major benefits of time tracking is the amount of data generated on project performance and work productivity. These actionable insights help businesses make accurate decisions.
Let's look at the reports you get on Clockify vs Toggl.
Clockify
Clockify generates four types of tracking reports:
Summary Report – this is an overview of time tracked by day, user, and activity.
Detailed Report – this is a detailed breakdown of tracked tasks, the total number of clocked hours, the total amount of billable hours by day, user, and activity.
Weekly Report – this is a weekly summary of all tracked time by project or user.
Scheduled vs. tracked Report (pro and enterprise plan) – compares scheduled assignments and actual time tracked within a given period.
These reports are shareable via CSV, Excel, and PDF.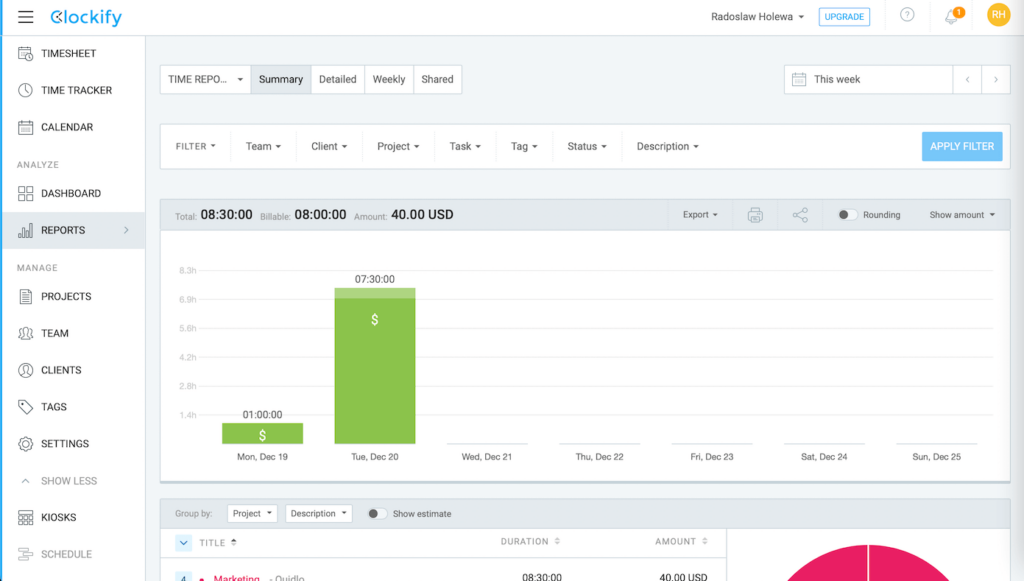 The Clockify summary report above shows the time entries of a selected period. The bar chart highlights the billable hours in dark green and the non-billable hours in light green.
The pie chart summarizes time entries by a specified criterion. Here, it is the client. The table further breaks down which team member worked for the client.
Toggl
Toggl generates three types of reports:
Summary Report – this is an overview of tracked time by task, user, project, client, and billable hours.
Detailed Report – this is a breakdown of all time entries in a given time period. It is filtered by task, user, project, client, and billable hours.
Weekly Report – this is a weekly summary of all tracked time by project, user, or client.
You can export these reports in CSV, Excel, and PDF formats. Moreover, users on paid plans can preset filters and schedule automatic email delivery.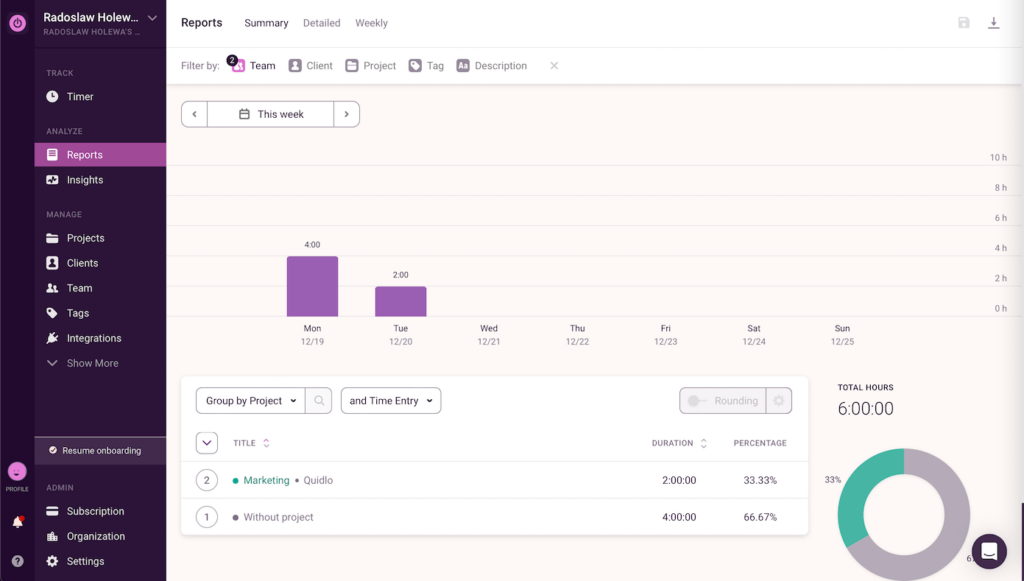 The above summary report from Toggl gives an overview of the time tracked within a given period. The bar graph shows time entries by date, with billable hours designated in dark blue and non-billable hours in light blue.
Key takeaway: In this Clockify vs Toggl showdown, both have similar reporting features.
Integrations
Software integration is a critical factor to consider when choosing digital tools. The tool you pick must sync with the apps you use to ensure a streamlined workflow.
Clockify
Clockify integrates with over 80 web apps via a browser extension. The timer button will appear inside other apps, and you can track time there.
Some of the apps Clockify integrates with include: Jira, Asana, Github, QuickBooks, Google Calendar, Salesforce, and Zapier.
Toggl
Toggl integrates with over 100 apps via native integration, browser extension, and automation apps. Native integrations include Jira, Asana, Outlook, Google calendar, Salesforce, and Adobe Photoshop. Automation apps are Integrately, Make, Tray.io, and Zapier.
Key takeaway: Both apps integrate with similar online tools, including project management, web development, and CRM programs.
Toggl advantages over Clockify
The best advantage Toggl has over Clockify is the attractive and intuitive user interface. Clockify is designed for large companies and thus has features that small businesses may not need, like finance and HR controls. Clockify doesn't hide these features, making the user interface complicated.
Toggl is also easy to set up and use and doesn't require training to get started.
Another advantage of Toggl Track is that it prioritizes employee privacy. It doesn't have screen recording, location tracking, or webcam monitoring features. This anti-surveillance stance helps improve adoption rates and worker buy-in. It also builds employee trust and accountability.
Clockify advantages over Toggl
The best advantage Clockify has over Toggl is price. Toggl is one of the more expensive time tracking software on the market.
Toggl's paid plans start at $9 per user per month, whereas Clockify plans start at $3 per user per month and has more features.
Clockify has features large organizations may need that Toggl doesn't. With many moving parts, large project teams need features like timesheets, attendance tracking, and single sign-on. You can even invoice directly on the app.
Furthermore, the project dashboard and billable tagging are standard on Clockify, whereas you need to upgrade to access these features on Toggl.
Clockify vs Toggl: Pricing
How do these time tracking software solutions compare in terms of pricing? Let's find out.
Clockify
Clockify offers five pricing plans: Free, Basic, Standard, Pro, and Enterprise.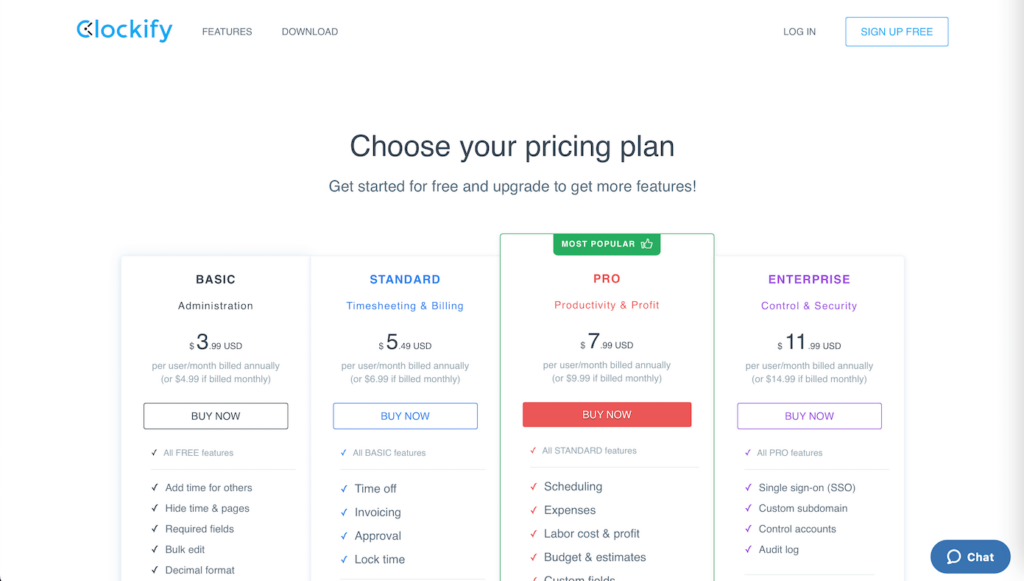 The free plan has unlimited time tracking, timesheets, a calendar, a Pomodoro timer, idle detection, and tracking integrations. Non-tracking features include unlimited users and projects, billable rates, reports, and team chat. This plan is best suited for freelancers who simply wish to track time.
The paid plan you choose will depend on the functionalities you want. The basic plan comes with all the features of the free version and basic administrative controls like creating project templates, editing profiles, and adding time for others.
The standard version comes with features on the basic plan and timesheet and billing functionalities such as locking timesheets, QuickBooks integration, and invoicing.
The pro plan includes productivity and profit features like GPS tracking, scheduling, expense reports, and budget management. The enterprise plan has control and security features, including single sign-on, control accounts, and audit logs.
Toggl Track
Toggl Track offers four pricing plans: Free, Starter, Premium, and Enterprise. All plans have a free 30-day trial of the premium plan with no credit card required. At the end of the free trial, users either upgrade or continue with the free version.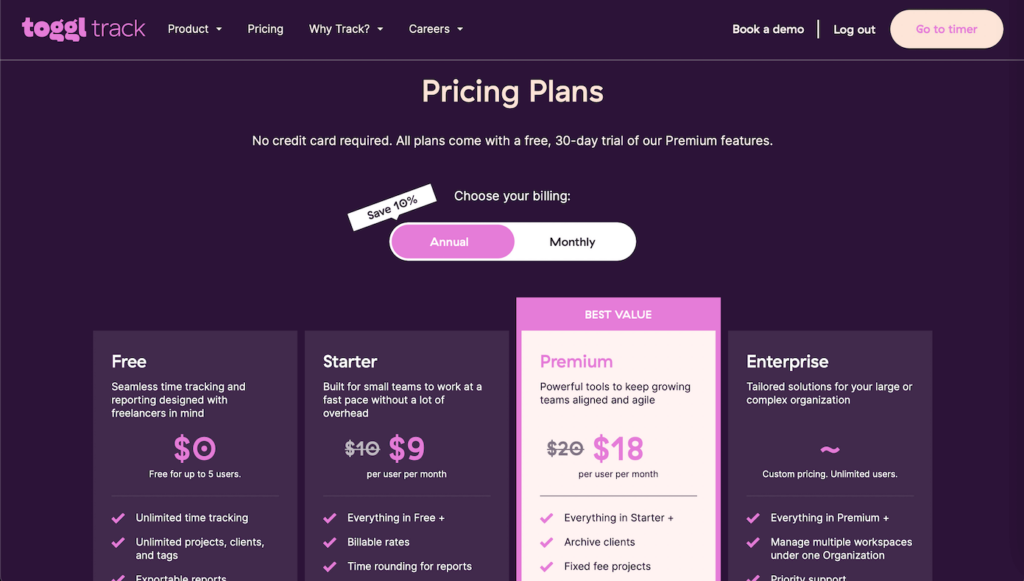 Toggl's free plan comes with unlimited time tracking, a Pomodoro timer, automated time tracking triggers, idle time detection, and desktop activity tracking. Non-tracking features on this plan are exportable reports and integration with multiple apps and software.
The free plan allows up to five users and is also suited for freelancers who primarily want to track time.
The starter plan is built with small teams in mind. Including the features in the free version, this plan comes with billable rates, project time estimates, alerts, and pre-populated project templates.
The premium plan comes with features tailored for growing and agile teams. They include time audits, project forecasts and analysis, locking time entries, single sign-on, and native Salesforce and Jira integrations.
The enterprise plan is made for large organizations. It supports unlimited users. In addition to the features in the premium plan, it comes with multiple workspaces, priority support, customization options, and expert training.
A Simple Alternative to Clockify and Toggl
Time management doesn't have to be expensive or complicated. Quidlo Timesheets is a lightweight yet powerful Toggl and Clockify alternative. It moves time tracking beyond the Clockify vs Toggl debate with an impressive performance that ensures optimal employee productivity without breaking the bank.
Our time tracker combines the simplicity of Toggl with the budget-friendly attraction of Clockify to give you the best of both worlds.
Quidlo is a server and cloud-based timesheet tracking software that offers real-time tracking on web browsers, mobile, and desktop applications. Like Toggl and Clockify, simply click a button to start and stop the tracker. Users can also edit time and add notes to time entries.
Alternatively, you can lock timesheets, preventing team members from changing time entries. We leave that option to you to decide how you want to run your team.
The Quidlo dashboard is simple and easy to navigate. That means less time configuring your time and more time doing the actual work.
The tracker is below the calendar. Simply fill in the task description and project, and click the play button to start recording. Stop the timer when the task is complete, and your time will be added to the tracking logs.
While recording, you can't add a new task or edit the one you're tracking. In this way, Quidlo utilizes the Pomodoro technique to ensure maximum productivity.
Other key features of Quidlo include:
Supports timesheet management
Employee database
Tracks billable and non-billable projects
Slack and Google chat time tracking chatbots
Time reports (inc. exporting data to PDF, CSV, Excel and Google Sheets)
Quidlo's Timesheets supports project management, allowing you to create projects, add project members. The time-tracking platform also generates reports based on tasks, users, and projects.
Quidlo Timesheets has three pricing plans: Starter, Pro, and Custom.
The starter plan is free and supports up to ten users. Some of the features available in the starter plan include unlimited projects, unlimited time tracking, in-chat tracking, and unlimited web, desktop, and mobile time tracking.
Like Clockify and Toggl, it has a free version that freelancers and small teams of 10 users can take advantage of.
Another benefit Quidlo has over Toggl and Clockify is it offers paid plans at a predictable flat fee pricing.
The pro plan is $29 per month, and the custom plan depends on your specific needs. In addition to features on the starter plan, the pro plan includes unlimited users, locked timesheets, time approval, and editing time for others.
You can try Quidlo Pro for free for 30 days. No credit card is required. At the end of the trial, you're free to continue with the starter plan or upgrade.
Quidlo is suited for freelancers, small teams, and large enterprises that want uncomplicated time tracking software at a reasonable and predictable price.
Summary
Freelancers and businesses use time tracking software to manage time, improve work productivity and generate transparent billing.
We compared Clockify vs Toggl, two well-known time trackers, and found that they are both easy to use with similar features and functionalities. They track time effectively, offer project and team management features, and client-ready reports. So, which one should you choose?
While Clockify and Toggl are both great, they have limitations that make considering an alternative necessary. Toggl is expensive and doesn't offer the security features and workforce management large businesses need. Clockify is cheaper but can prove complex for small and mid-sized companies.
Quidlo Timesheets is a free time tracking tool that offers the best of Toggl and Clockify in a simple, user-friendly platform. It provides everything you need in a time tracking tool – a simple time tracker, timesheets, time reports, project management, security with defined user roles, and more. Best of all, you don't have to worry about surprise invoices because you pay one flat fee, not per user.
1