Would you like to keep a closer eye on how you spend your time? Lucky for you because there are plenty of time tracker apps for iPhone that could help you figure out where your precious hours are going.
However, with many options accessible, how can you determine which iPhone time tracking app will be the best option for you, your needs, and your working style?
👉 Read also about Top 10 timer apps in 2023
Fret not because we are here to make your selection process at least a little bit simpler. We have pulled together different time tracker apps and all their need-to-know features, so you can easily assess which time tracker will change you into a mean and lean productivity machine.
What is a Time Tracking App?
A time tracking app lets you record your time consumed by each project or task. It helps you manage your time to maximize productivity.
Quidlo Timesheets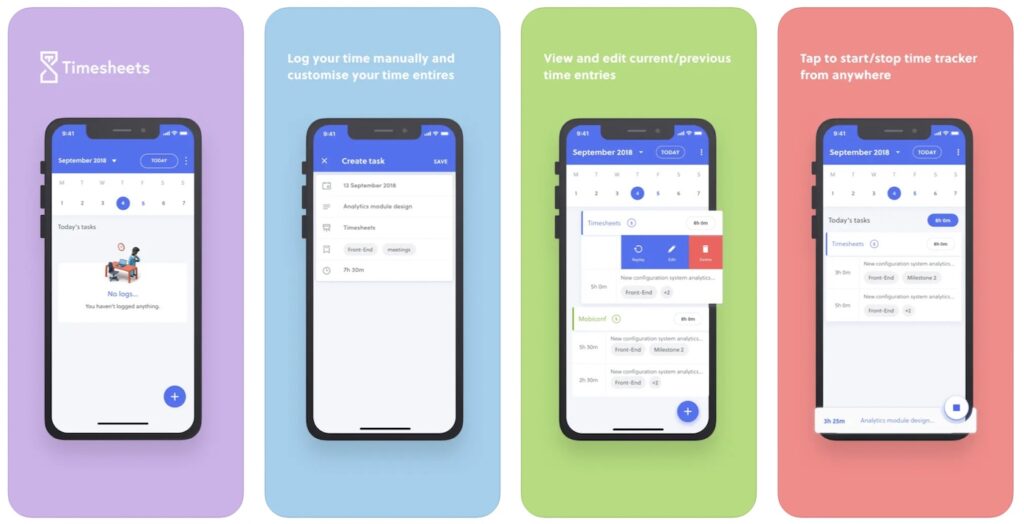 If you're looking for a user-friendly and lightweight time tracker app for your team that doesn't cost a lot of money, Quidlo Timesheets has you covered. It offers substantial and relevant insights into projects and tasks by letting users find data, share custom reports, break down hours, or export reports to Excel or Google Spreadsheets.
You can easily track time where you like and how you want with Quidlo Timesheets. Also, your records are safely synced between your iPhone, desktop, and web browser. It also supports integration with many most popular tools to allow you to track time without leaving your favorite app like Slack or Jira.
👉 Create your Quidlo Timesheets account here
📱 Download the Quidlo Timesheets iPhone time tracking app here
Focus Keeper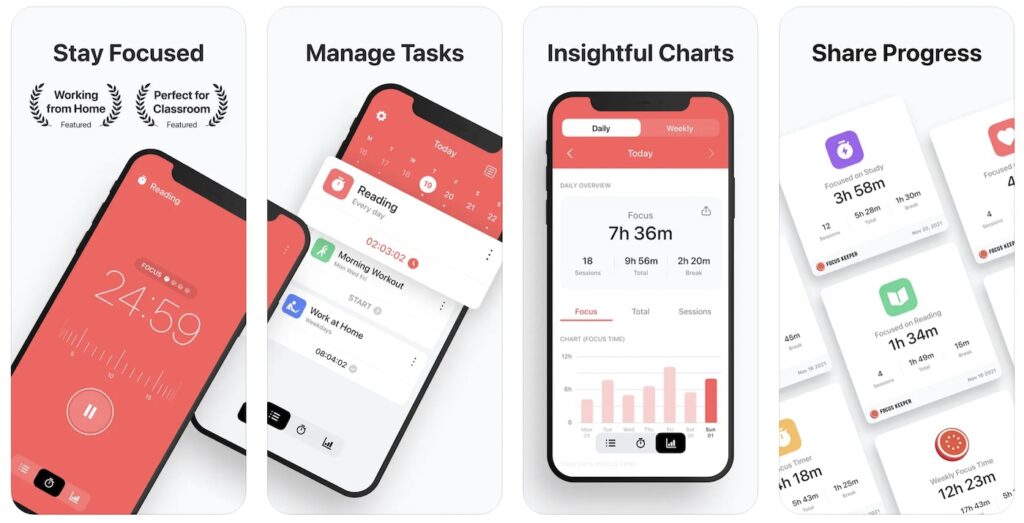 Distractions can be at an all-time high, especially with the new generation of students. Whether it is the constant social media notifications or the latest show, focusing on a specific task has become all the more challenging.
Fortunately, Focus Keeper can help students stay on track at all times.
The Pomodoro method is efficient and helps boost your focus substantially. Focus Keeper has also executed this method perfectly into the app's mechanics. You can easily personalize your goals, times, and sessions.
On top of that, if you love working while listening to music, you can listen to them while working along with the app. This time tracking app keeps track of how fast you form a habit.
The default ringers and sounds on the app are quite frustrating, frequently. That is not a dealbreaker but can be improved by the developers.
📱 Install Focus Keeper on your iPhone
Toggl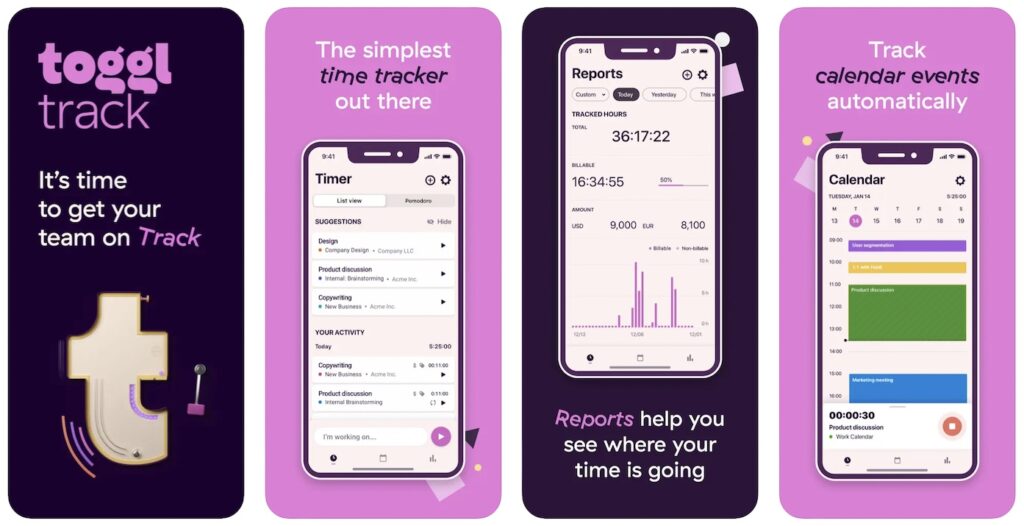 Toggl is a name you're bound to come across if you're looking for an iOS time tracker. It's considered one of the best time tracking apps, thanks to its great suite of features and awesome intuitiveness.
It can support different devices, not only iPhones, which makes time tracking a convenient process for its users. Now, you can continue tracking your task or begin a new time entry using the one-click timers, integrate your workflow with over 100 apps, leverage tracking reminders, monitor project progress with relevant visual data, assign billable rates to your projects, or export reports into PDFs, CSV, or Excel.
Toggl makes all that and more possible. The app would certainly be an excellent option for a time tracking app. However, it poses a few limitations when it comes to customization.
📱 Install Toggl Track on your iPhone
Hubstaff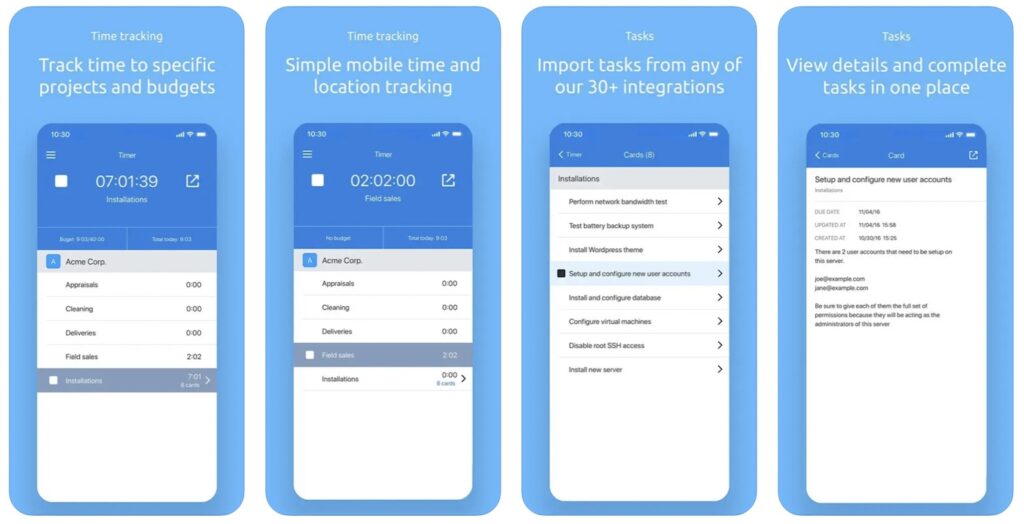 Hubstaff is one of the leading time tracking software that focuses on tracking and organizing employees' time. The app currently serves more than 34,000 remote and field service teams in different work areas, including startups, construction, and ecommerce.
The app lets you track time from your iPhone and Android, web, and desktop. Workers log time, and employers can also check the time logs along with screenshots and timesheets to verify that the employee has put in the correct working hours.
You can easily rearrange the timesheets that Hubstaff makes. You can select the number of clients you want to invite as viewers to check your activity levels.
The app provides detailed reporting, offering insights and other related information for prompt decision-making. Overall, this app measures activity levels, automates payroll, tracks applications, takes screenshots, and combines with over 35 project management tools.
📱 Install Hubstaff on your iPhone
ProofHub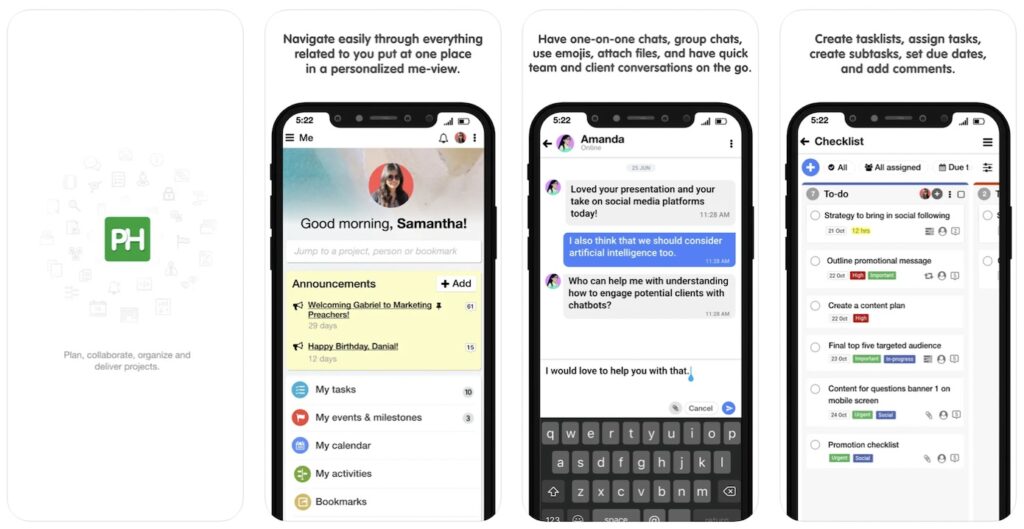 ProofHub is another top-rated project management and team collaboration app that provides an accurate and dependable inbuilt time tracking system to help teams use their time efficiently.
Project teams can utilize this time management system to track how much time they spend finishing various tasks.
Employees and project managers can view all-time data of users across every project, billable or non-billable, project development, and status in a bird's eye without jumping through projects.
The app also allows users to make custom time reports of projects and people. You can add different timesheets and utilize them for payroll, estimation, and client invoicing. Moreover, you can set time estimates for tasks to determine the required time to finish the task. If the project takes longer than the set time, you can know the reason for postponed completion.
Overall, the time tracking software of ProofHub helps to keep your employees accountable for their work. The ease of usage and fixed pricing plans make this tool the perfect option for teams wanting to ace time management easily and simply.
📱 Install ProofHub on your iPhone
Clockify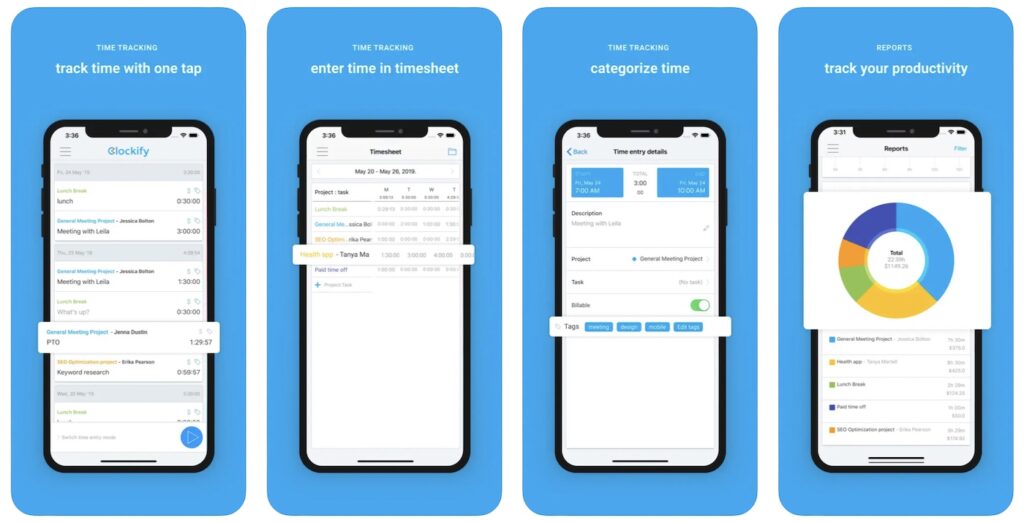 Clockify is the ultimate time tracking app ideal for both teams and freelancers. This time timer provides you with a long list of awesome features and the capability to add unlimited users for a lifetime.
You can use the app to track time taken for every project via a timer or manually, monitor employee timesheets, keep track of every project's progress, and determine the billable hours. The click-free dashboard also offers you a comprehensive insight into the progress, the time consumed for every project, and the total time taken.
What's more, the visual data representation makes it a lot simpler for you to monitor the activities that consumed more time, the live status of an ongoing task, and many more. Clockify also provides offline time tracking, mobile time tracking, leave and vacation tracking, and timesheet management.
📱 Install Clockify on your iPhone
Looking for ways to improve productivity?
Start tracking your time with Quidlo Timesheets. 30-day trial.
No commitment or credit card required.
Harvest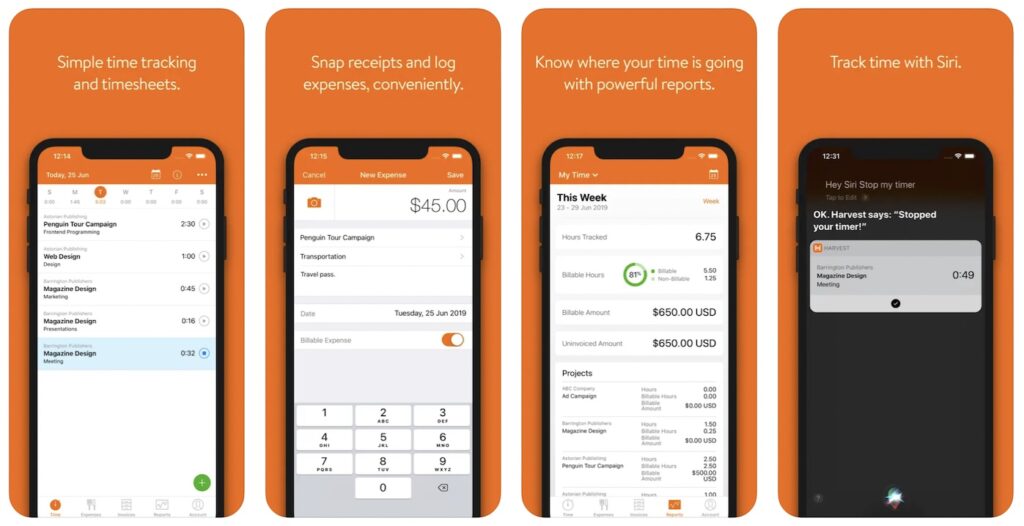 One of the best features of Harvest time tracking is that it runs on your iPhone, Mac, and even Apple Watch. Once you have finished your task on the work cycle, you can convert the workable hours into invoices.
Did you forget to add expenses? Click a photo of your receipt, and the amount will be automatically included in your invoice. It's a convenient and versatile time management tool that can be used on numerous platforms such as Mac, PC, or a mobile widget.
Even if you're working on a time, you don't need to consider the team members and projects. You can easily assign different tasks within a single project to particular team members.
The only disadvantage of this time tracking app is that it does not add desktop monitoring features such as URL tracking. Still, you can use it as a great iPhone time tracking app.
📱 Install Harvest on your iPhone
TimeCamp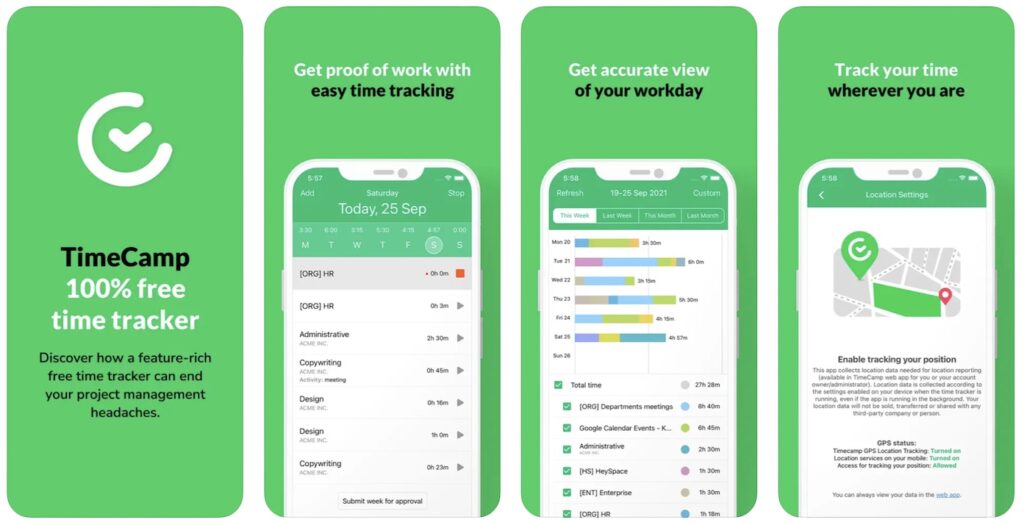 You can now track your productivity and performance with the advanced time tracking system from TimeCamp. The tool lets you guide your team and distribute tasks in a way that guarantees productivity by measuring the time spent on tasks.
Leverage one-click or automatic visual time tracking, monitor projects billable by hours, time entries for simple online invoicing, or use a GPS tracker to monitor your team's location.
Employees are also permitted to monitor their time and self-monitor to enhance productivity. The good thing about TimeCamp is can be accessed from numerous devices and could be integrated with different apps such as QuickBooks, Jira, Asana, and more.
App users also love the good visual reporting features, as it helps them identify the unproductive and productive hours.
Nonetheless, if we had to determine one downside of TimeCamp, it would be its complicated interface. But barring those above, this time tracker would make an excellent pick.
📱 Install TimeCamp on your iPhone
Timely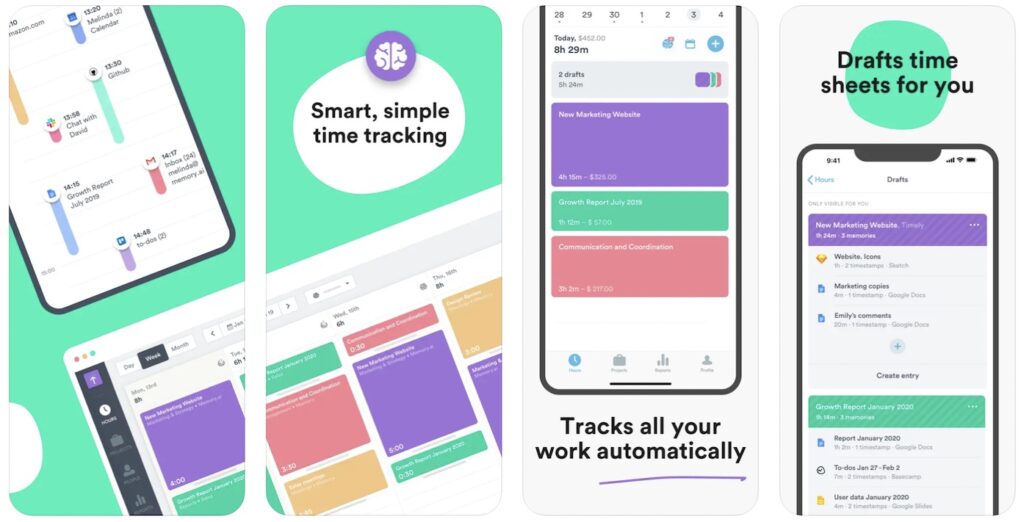 Timely is another awesome time tracking app that lets you combine maximum productivity by helping you control your team's time efficiently. With such a time tracking app in place, you can guarantee that everybody's time is used properly.
Timely also features automatic time tracking. You can effortlessly track time spent on every work and uses artificial intelligence to convert the tracked data into particular timesheets for billing.
The app observes and learns how you go about your tasks and gets the entry draft prepared for you all the time. The only thing you must do is to review and give a thumbs up. The time tracking software seems to be perfect for Gen Zs.
Timely also claims to support respectful work cultures and thus doesn't capture screenshots, track mouse movements, or track locations, as it could be intrusive. On top of the slightly complicated learning curve, the time tracking app seems to be a good fit.
📱 Install Timely on your iPhone
Time Doctor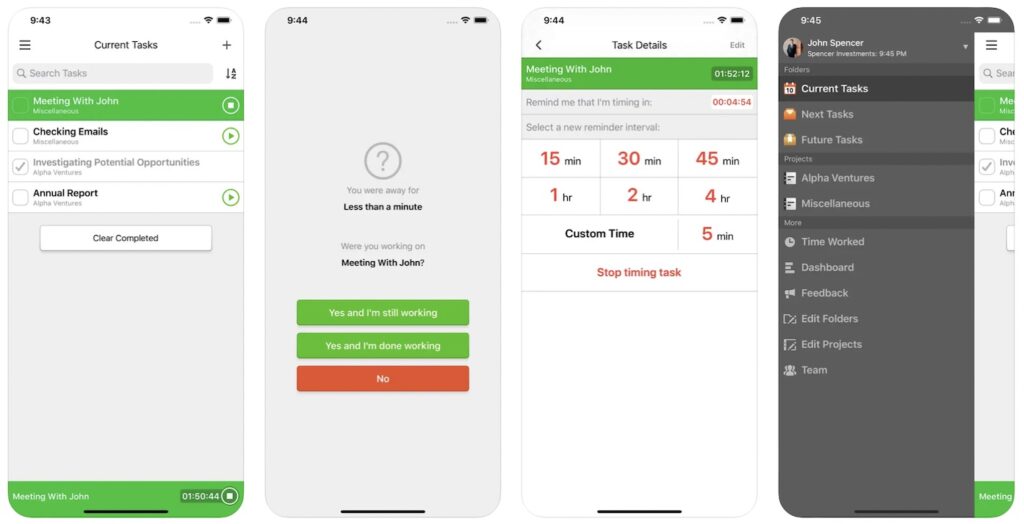 Time Doctor is the go-to place for people looking for both time tracking and employee monitoring solutions. The app is a great solution to monitor time and organize the productivity of teams working from home, offices, or anywhere.
Have we mentioned that this time tracking tool is ideal for teams with about 500 members? The key features of this app include screen activity monitoring, productivity analysis, keystroke recording, employee activity monitoring, overtime calculation, powerful reporting and integrations, screenshots, a self-service portal, and employee scheduling.
Time Doctor also tracks internet use. This app is perfect for managers or team leaders with strict monitoring and time tracking. However, employees may find it somewhat intrusive.
Are Time Tracking Apps for iPhone Convenient?
Time tracking apps can help you find where you could use your time efficiently and help you realize if you're procrastinating in specific areas. You can use such apps to make your schedule for the day and maximize your time.
Several time trackers provide features that can help you show your work to a client or manager, such as daily reports on what activities you're working on that day. They also offer you data that you can share and evaluate to see if there are places where you can become more effective.
What Should You Look for in a Time Tracking App for iPhone?
Other time tracking apps have more unique features than others do. Selecting an app that supports you in working towards your goal can help you be more productive.
Below are important features you need to look for when choosing a time tracking app:
Are you tracking your time when working with a client? It can be useful to have an app that lets you export and share the data with the corresponding people.
Often, you might forget to set your time tracker when you're forking on a project or forget to turn it off. Time tracking apps that let you manually add blocks could help you accurately picture where you're spending your time.
Other time tracking apps provide reports and dashboards that display where you're spending your time and when during the day, weeks, and months.
It's good to have a time tracker that lets you track your time every time you start a project and pause or stop it when you finish or take a break.
Is Tracking Your Time Really That Essential?
There are a limited number of hours within a day, including your time at work and in your personal life. Understanding how you spend your time can guarantee you're devoting it to the tasks that matter.
👉 Read also Is time tracking effective?
Here are some reasons why tracking your time is essential:
You will know how long a task will take
It encourages accountability
It helps you develop good habits
Get increased efficiency
Final Thoughts
There you have it! The apps above are some of the best time tracking apps for iPhone today. These are the best that the market has to offer you. However, finding the ideal time tracker for your team or personal use will help if you take a closer look at every time tracker, compare it with your needs and choose the best fit.
2