Is your organization facing different operational challenges like the pressure of cost control, higher service demands, and trying to build your business' USP to beat your competitors? If yes, you may consider hiring managed virtual assistant services to run your business more efficiently and seamlessly. 
The virtual assistant sector is one of the fastest-growing in the world. The market size of the global VA is likely to reach $40.95 billion by 2027, at a CAGR of 37.61%.
Virtual assistant companies are specialized outsourced services that offer top-notch options to organizations to perform different operational activities.
It's a strategic way for companies to strengthen operations and cut costs by outsourcing particular tasks. Reputable virtual assistant companies in India align trained and qualified VAs to do all financial services, healthcare, technical, administrative, legal, and IT work.
👉 Read also: 51 Best Virtual Assistant Software Tools in 2022
You will find many advantages to hiring virtual assistant companies in India, and we have listed the most crucial ones in this guide. If you're ready to know more, let's dive in!
Why Hire a Virtual Assistant Company in India?
The major benefit of hiring a virtual assistant from India is that they free up those hours for you that you must devote to your business growth. Here are some reasons you should hire a VA company in India.
🇬🇧 English skills and education
Did you know that English is widely spoken in India, and well spoken at that? On top of that, it is typical for virtual assistants to be well-educated at the college level. You'll likely find a VA that specializes in whatever area you need.
💪 Flexibility
Another reason for the fierce competition among virtual assistant companies in India is that most are flexible enough to accommodate challenging demands such as 24-hour service.
At bigger virtual assistant companies, employees work in shifts. Thus, there's always someone who will take care of your needs.
👌 Better work quality
When running a business, you will likely have a lot of small tasks that may take up most of your executive's time. A virtual assistant company in India can align VAs to finish those tasks with top-notch quality.
What's more, you can concentrate on your core business areas to improve your company. You can save time, cost, and trouble in retraining your team. As an alternative to wasting your resources, hiring a professional virtual assistant in India can get you people with all those skills.
How to Find the Best Virtual Assistant Company in India?
There are a few criteria that business owners and executives must keep in mind when selecting a VA company in India. Remember that VA agencies specialize in various areas and provide numerous benefits.
Below are other crucial criteria that businesses must bear in mind when selecting a virtual assistant service in India:
A solid reputation
The reputation of the virtual assistant company can make or break your decision to pick their service. An excellent reputation indicates more opportunities for your company. It is the same for VA providers.
Make sure you choose a virtual assistant company with a solid industry reputation. These companies are more likely to support good relationships between virtual assistants and business owners by taking an inclusive approach to fulfilling requirements and needs.
VA companies with solid reputations also work with businesses to determine particular needs and build roadmaps to transform processes.
Company innovation
VA companies are innovating quickly and offering services at an unprecedented rate. For instance, you can choose a company that combines technology with the human brain's prowess to create a distinguished virtual assistant company that covers all your needs.
On top of that, businesses should continue to innovate in the digital industry to future-proof processes and win over new clients.
Fast response times
Fast support response times offer companies the power to win over customers and engage in a custom-centric tactic. Tracking response times help to improve performance.
Research has shown that timely customer service stops customers from having bad or poor experiences.
Industry experience
Industry experience is one of the most crucial factors when selecting a virtual assistant company in India. Leading the way with expert industry experience, a good virtual assistant company must provide a unique service that integrates know-how, insight, and knowledge to overhaul regular tasks.
A VA company's industry expertise offers organizations in-depth quality assurance and quality results.
The Best Virtual Assistant Companies in India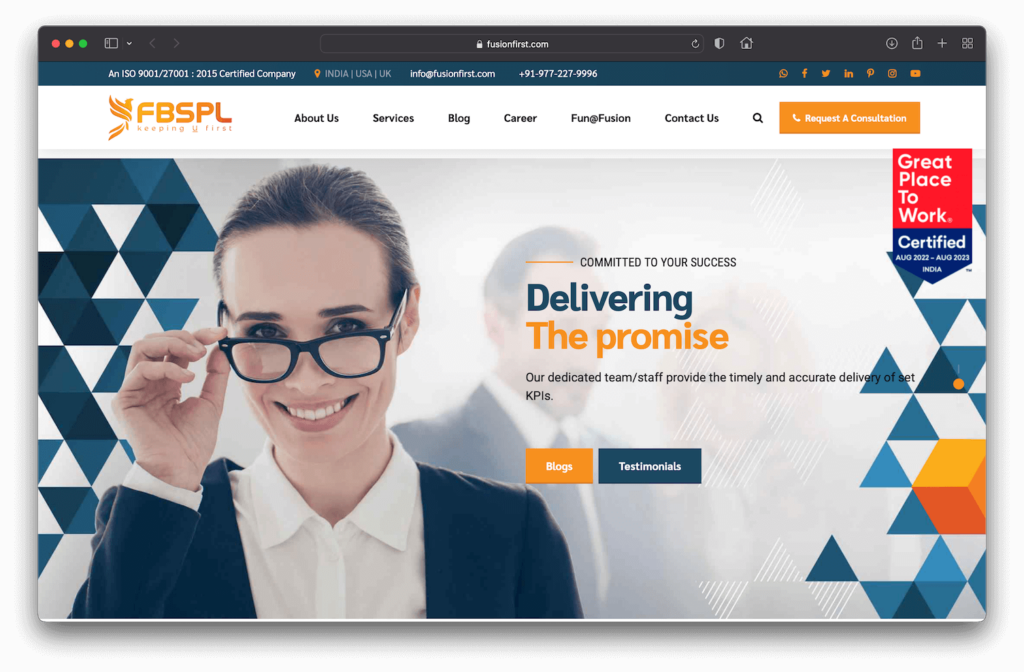 This is an offshoring and outsourcing company with more than 300 staff headquartered in Udaipur, India. The company was established in 2006, working with small businesses and mid-market companies in the business services industry. They also offer back-office and non-BPO voice services.
This is a web development company that was created in 2014. Currently, they are headquartered in New Delhi, India, and have about 82 workers. The company also specializes in web development, ecommerce development, outsourcing, and HR consulting.
Tech2Globe Web Solution helps online retailers with advertising and marketing activities. Their team also offers ongoing support for different aspects of their client's business.
Task Virtual is another outsourcing company based in Kolkata, India. Since 2016, their small team of nine employees has been specializing in business consulting, market research, branding, non-voice BPO services, transcription, and many more.
They mainly partner with mid-market clients in a wide array of industries. The company also offers virtual assistant services for coaching companies. Their work involves research, data entry, social media, and content creation services.
Sage BPM provides top-notch service and long-term performance benefits. The virtual assistant India company can work with enterprises of all sizes, from big corporations to start-ups, in a broad spectrum of industries.
The company is currently headquartered in Ahmedabad, Gujarat, India.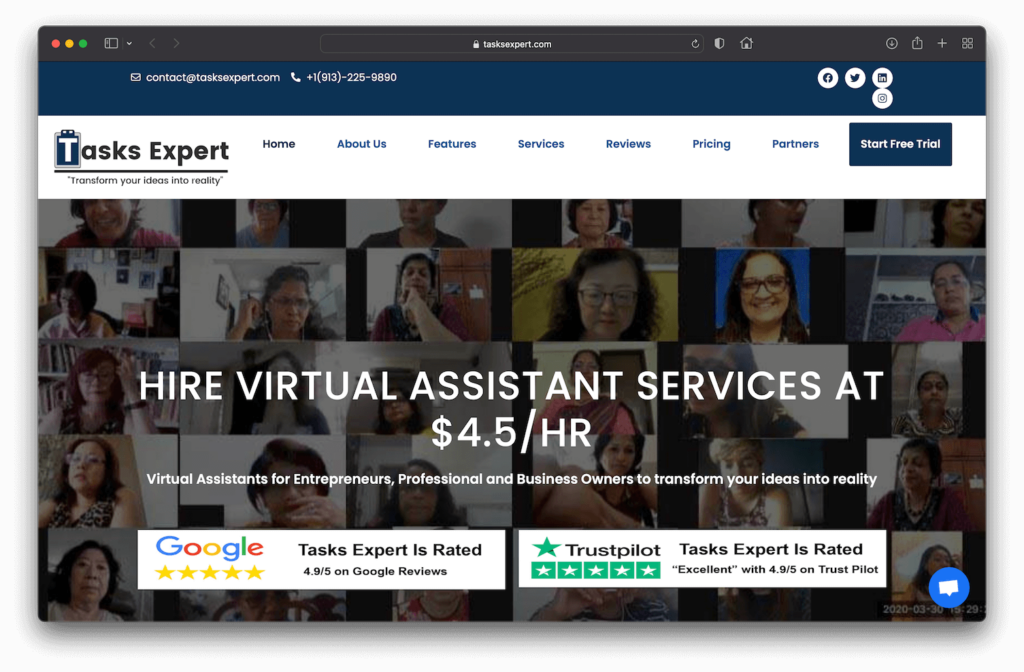 In case you didn't know yet, Tasks Expert is an American-based virtual assistant company that focuses on offering VA to people and enterprises of all sizes across the world. Even though the company is headquartered in the United States, its virtual assistants also work from their offices in Mumbai, India.
Strong Vision has an office in Maharashtra, India, and takes pride in offering data management services for all its clients. They come with years of professional expertise in data processing and have worked with different businesses and individuals across the globe.
TransForm Solutions is a world-class business processing company providing custom operations and back-office services to companies worldwide. They maximize their customer's efficiency and lessen their cost by managing their non-core business functions, so they can refocus their resources and time where it counts.
The high-touch approach of the company to engagement has gained customer loyalty and a ninety-five percent customer retention rate for the company. With about two decades of experience, the company believes in long-term partnerships.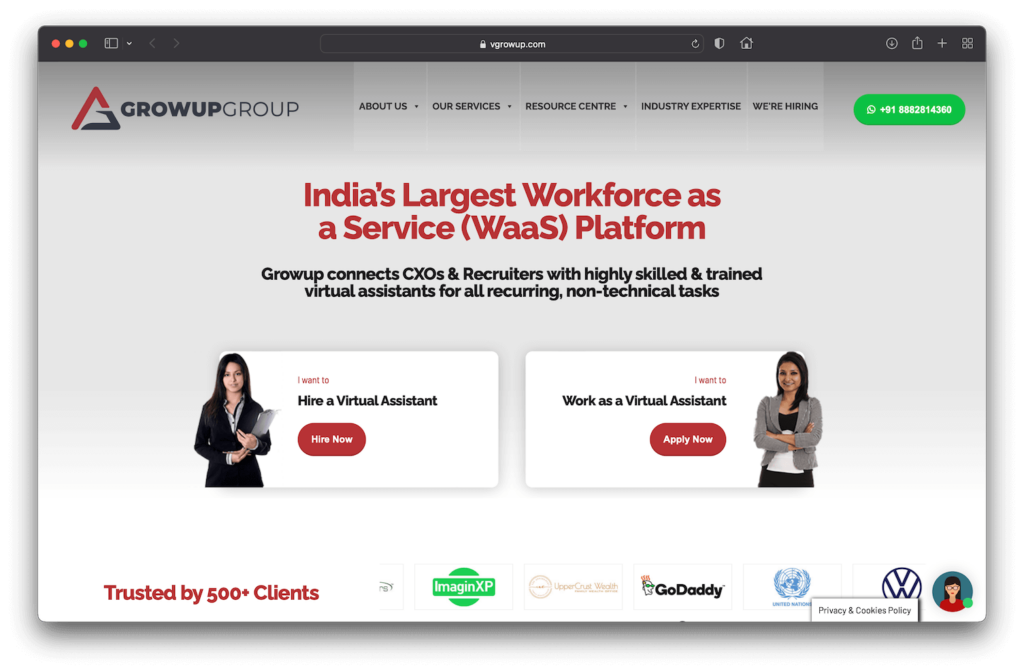 The VAs at GrowUp Technologies takes pride in their expertise in helping various types of organizations. Before being introduced to a certain client, every virtual assistant goes through a strict and thorough screening process.
The company began with the idea of offering vetted, trained, and experienced remote workers to mid-small-sized businesses, conglomerates, and enterprises.
VA Talks is another one of the best virtual assistant companies India with 24/7 support. The company was established in 2015 by two veteran virtual assistants who decided to start their own company. Despite the newness of the company, the founders bring nearly a decade of business process outsourcing expertise and know-how to the table and are currently growing a team to serve other small businesses and entrepreneurs across the globe.
Headquartered in Kolkata, India, Tasks Leader is a VA company offering experienced and skilled virtual assistants to businesses across the globe. All their VAs is based in their offices and are accessible 24/7.
The firm started its operations in 2021 and was established by David, a business owner with over eight years of expertise working in the VA industry. Currently, the company provides a great deal of flexibility with its pricing plans. You can sign up for as less as five hours per month or go for a full-time assistant.
Benefits of Hiring a Virtual Assistant Company in India
There are many benefits of hiring a virtual assistant company in India. We have listed the most important ones in this post.
Your business will receive high-level skills
No matter if you are running a big or small business, most of your full-time employees might not have the suitable skill that your business needs. A virtual assistant company in India can get you VAs with the specific skill sets that your business needs.
A few examples are:
If you need to create a professional website but don't have a web developer in your company
You need somebody to make designs or logos and post blogs on your website each week, but you don't have a writer or a graphic designer
Your marketing collaterals require translating into another language, but none of your staff is bilingual
Irrespective of the job type, a virtual assistant company can find you a qualified virtual assistant with the needed skills set to finish a broad spectrum of tasks.
Lowered labor costs
Another benefit of hiring a VA company is that it is more cost-efficient than hiring full-time employees. Apart from compensation, you need to offer the benefits below that will improve operational costs substantially.
Worker's compensation
Holiday leave
Medical or dental benefits
Taxes
Sick leaves
On the other hand, if you wish to hire a virtual assistant company, you must only pay the contracted price. Besides that, there won't be any hidden charges.
Higher productivity and diverse services
A virtual assistant company will improve your business's productivity by concentrating on core tasks. The main goal of VAs through a VA company is to get your business activities done effectively. Normally, the service provider aligns with a project manager for smooth communication.
A VA company does a broad spectrum of business activities such as:
Making travel, hotel, or airline reservations
Creating spreadsheets or presentations
Correspondence management
Internet research
Event planning
Appointment scheduling
Call Answering
Data entry
Real estate work
Lead generation
The client doesn't absorb turnover costs
High turnover rates cost many businesses a huge amount of money. When employees leave, hiring new personnel or retraining staff can be trouble and is sometimes counterproductive. Often, businesses panic and invest in new hires who either are not a good fit or quit.
That only indicates that businesses end up wasting their resources on staff leave, producing more problems for companies and their timelines. That makes for an uncomfortable atmosphere in the workplace and breeds a frustrated workforce.
Using a VA company means that you don't need to think about such costs.
You have your own team
With a virtual assistant company, you are not only hiring an independent contractor. You are hiring a whole support time that involves:
An engagement manager who turns your tasks into processes for the virtual assistant and serves as your advocate—only if you have constructive feedback, you give it to the manager and not to the VA. That is the manager's problem and not yours.
Two managers to handle any performance concerns.
A cohort of virtual assistants between them has seen only each VA challenge and help each other when roadblocks and questions arise.
Two backup assistants are trained on your processes to take over in the case of departure or absence.
You have access to a different vast tech stack
One of the best things about a VA company is they have hundreds of virtual assistants with expertise with just about each tech platform businesses utilize. Prospecting tools, automatic marketing platforms, CRMs, calendaring, expenses, travel planning, invoicing, and many more.
If a VA needs some refresher course and training, that is on the service provider. With an unmanaged VA company, any gaps in experience or knowledge are on you.
You don't need to think about security
Providing a freelancer or independent contractor access to your work using a BYOD computer has real security risks. How secure are the home and PC network it sits on?
Ultimately, personal security. Is the person trusted? Virtual assistant company utilizes computers, facilities, and networks and does background checks on all virtual assistants.
You accomplish scalability
That's especially valuable for bigger enterprises and businesses that are adopting managed virtual assistant services. It is much simpler to scale up (or down) as business conditions change. It takes at least $4,700 to hire office workers.
If you wish to add more VAs with a managed service, you could hire them in several days. You can establish a team that works together for your executives.
Risks of Hiring a Virtual Assistant Company in India
Most companies these days provide the same things for the same price range. It comes to the point that even companies like us have difficulty telling them apart.
There's no doubt that a virtual assistant company from India can be an excellent option for most businesses, but there are a few disadvantages as well.
Also, they are normally higher priced than a freelancer virtual assistant. That's because they need to pay people to supervise and train the VAs, develop and maintain best practices, and so much more.
Another disadvantage is that you might not collaborate with the same virtual assistant. That could be a benefit as you have backups for vacation or illness, but it can be annoying if the company keeps changing who you work with.
When you get assigned a VA from a virtual assistant company, it's important that they get familiar with your projects. It could also take time for different VAs to get to know your requirements and workflow. Sometimes it makes challenging to understand what exactly you are getting.
Great VA companies will offer a dedicated virtual assistant, so you can collaborate with the same professional at all times.
Cost of Hiring a Virtual Assistant in India
One of the key advantages of hiring a virtual assistant in India is that it is more likely to be cheaper than hiring an employee in a country with a higher cost of living.
According to PayScale, the average virtual assistant hourly rate in India is ₹246.32/hour, which equates to about $3.02. With the services companies listed above, the cost will be about $10 per hour. The final price always depends on the services you are asking for.
👉 Read also: 12 Best Virtual Assistant Companies in the Philippines
Final Words
There's no doubt that virtual assistant companies in India could be an ideal solution to your business's needs, providing the support and flexibility you wish for. We wish you the best of luck in finding the best virtual assistant company.
From managing your business accounts to personal calendars, the virtual assistant companies from India will help you minimize your workload and improve productivity.
1