A timesheet records the time (hours) employees or workers spend on a job. Basically, it's a tabular document that indicates the tasks performed within a specific period. It includes data like the relevant dates, work hours, and pay period.
Timesheets are essential tools for keeping track of productivity. They also help to manage your employee records effectively and accurately determine payrolls based on the hours worked in a particular period.
Keeping a timesheet is one efficient approach to creating a well-balanced work culture. For instance, it's easy to spot when employees may be working beyond the legally appropriate work hours. Missing details like this could be detrimental to your business concerning employment laws.
But that's not all. According to Finance Online, businesses lose as much as $7.4 Billion due to unrecorded work activities. Now, that's a convincing reason to work with timesheets.
That said, there are various ways to incorporate a timesheet into your company records. A typical approach is to use a template with different columns for specific data. If you're yet to create one, we've put together some simple Timesheet templates to make this easier for you.
👉 For those looking for free time tracking templates in Excel formats, click here.
Monthly Timesheet Template
A monthly timesheet is used to track employee work hours every month. It includes details like when daily shifts within a month begin and end. They also indicate breaks, days off, regular and overtime hours, and so on. This is recommended for salaried employees.
Here's a monthly timesheet template you can modify for your organization: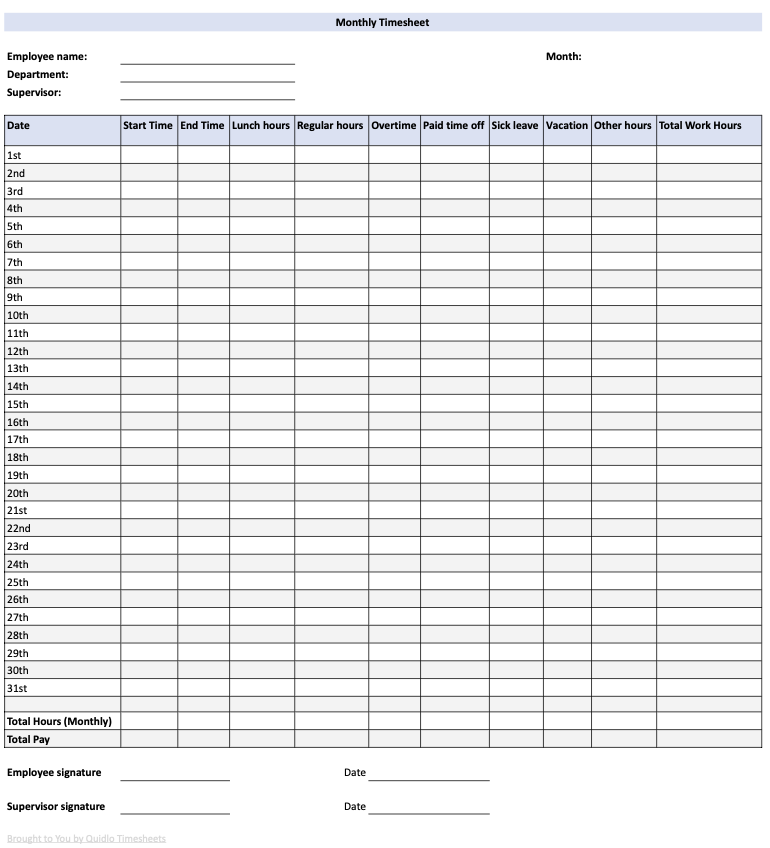 Download the monthly timesheet template:
👉 Monthly Timesheet Template For Google Sheets
👉 Monthly Timesheet Template For Excel
👉 Monthly Timesheet Template PDF
Monthly timesheet templates are recommended if you are keeping records of your employees' monthly payroll. The total work hours are put together at the end of each month to determine the employee's remuneration.
Weekly Timesheet Template
A weekly timesheet template is used to track employee hours on a weekly basis. There are various formats you can use for the weekly timesheet.
You may choose to include additional information like paid leaves, holidays, and so on. Or, stick with the basic details like the start time, end time, lunch breaks, regular hours, and overtime hours.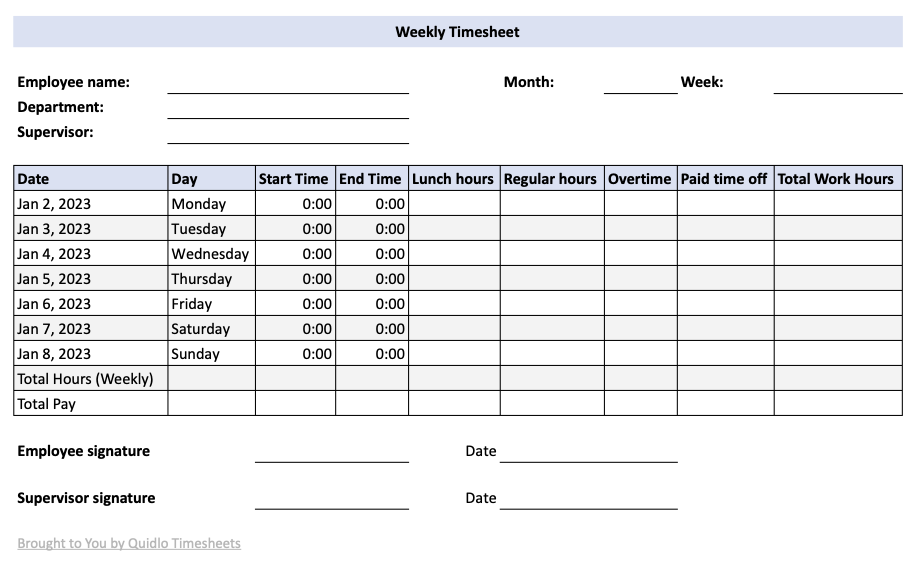 Download the weekly timesheet template:
👉 Weekly Timesheet Template For Google Sheets
👉 Weekly Timesheet Template For Excel
👉 Weekly Timesheet Template PDF
Weekly timesheet templates are useful when working with deadlines (especially for large projects) and want to ensure that employees meet them. You can also use the weekly timesheet for freelancers and contractors you work with.
Biweekly Timesheet Template
The biweekly timesheet works for a two-week work period and sums up the total work hours within the specified duration.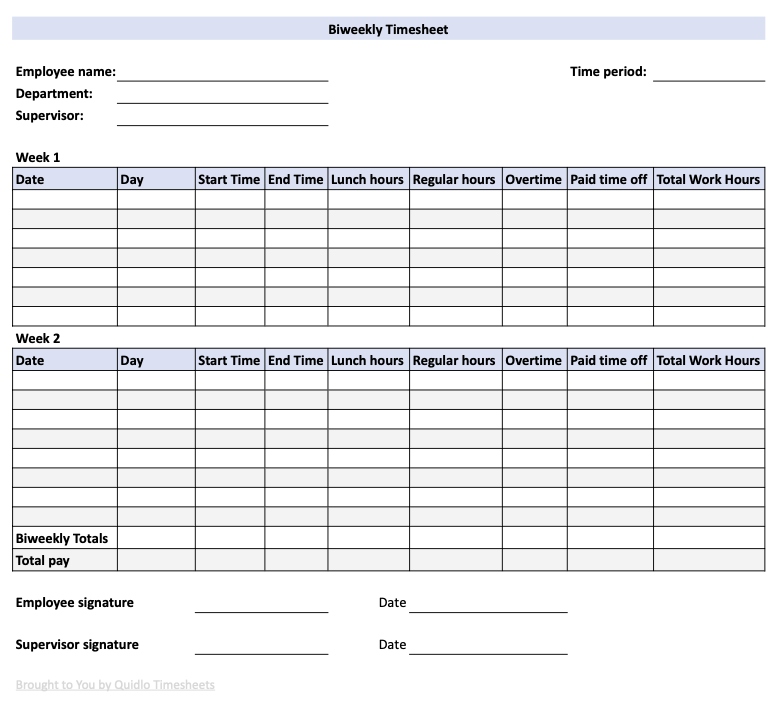 Download the Biweekly timesheet template:
👉 Biweekly Timesheet Template For Google Sheets
👉 Biweekly Timesheet Template For Excel
👉 Biweekly Timesheet Template PDF
The Biweekly timesheet is your go-to timesheet if you pay employees twice monthly.
Daily Hourly Timesheet Template
The daily timesheet template lets you record employees' work hours in a single day. This timesheet is useful if the nature of your project demands a specific daily output.
For example, construction jobs may require artisans to work every day until the project is completed. The daily hourly timesheet is also applicable for part-time employees. Here's what one looks like: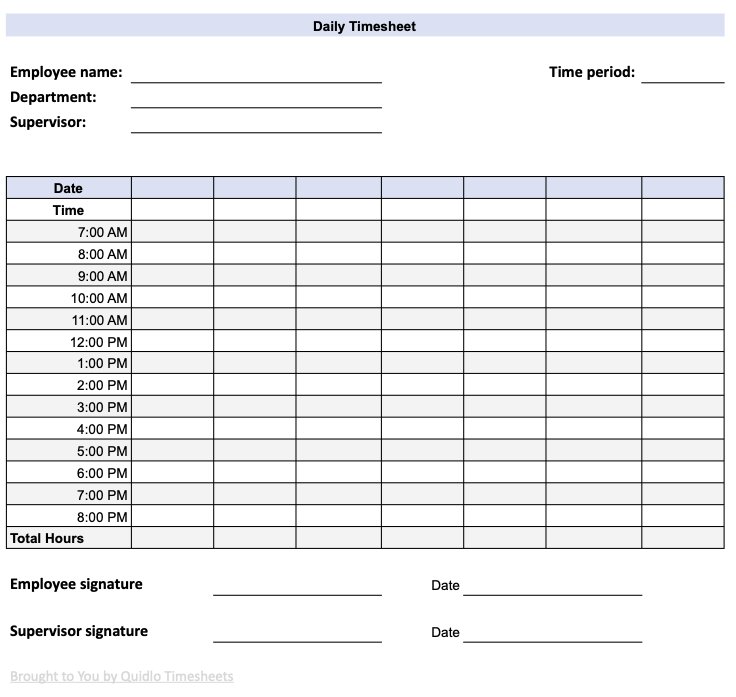 Download the daily timesheet template:
👉 Daily Timesheet Template For Google Sheets
👉 Daily Timesheet Template For Excel
👉 Daily Timesheet Template PDF
If you want a more detailed timesheet, you can create a daily timesheet for specific job functions in your organization.
Employee Timesheet Template
An employee timesheet template is used to track the hours employees have worked. This template does not break down the start or end times for each day. Instead, it gives an overview of the total hours worked on a particular day. The employee timesheet template can be used on a weekly or monthly basis.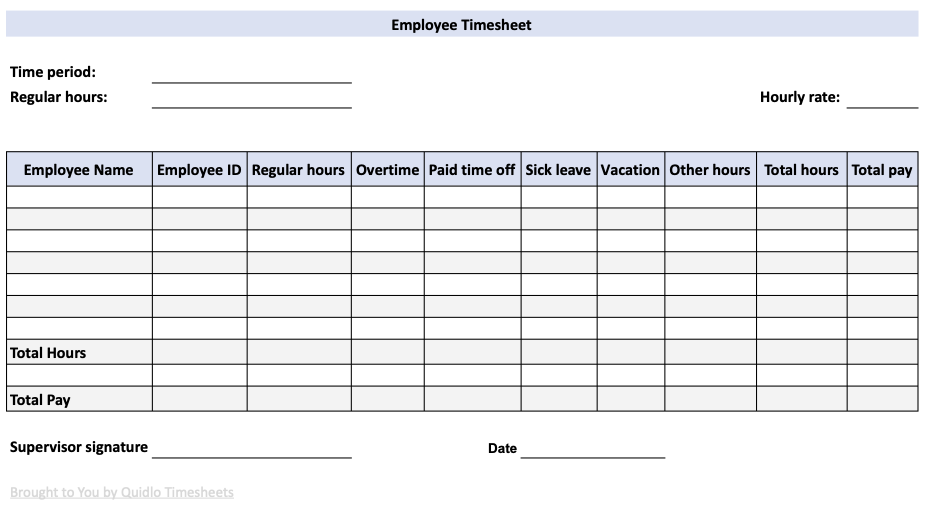 Download the employee timesheet template:
👉 Employee Timesheet Template For Google Sheets
👉 Employee Timesheet Template For Excel
👉 Employee Timesheet Template PDF
Employee timesheet templates also come in handy when you need to resolve complaints raised about remuneration, hourly rates, work hours, or overtime hours worked.
It's also helpful when you want to reward or appreciate some of your workers for their dedication. With an employee timesheet, you can see who is consistent and next in line for recognition.
Project Timesheet Template
The project timesheet template can be daily, weekly, bi-weekly or monthly. This depends on the project length and demands. A project timesheet template is for tracking work hours related to a specific project.
The project timesheet makes it easy to determine the total hours your client will be billed for based on how long employees spend on the project.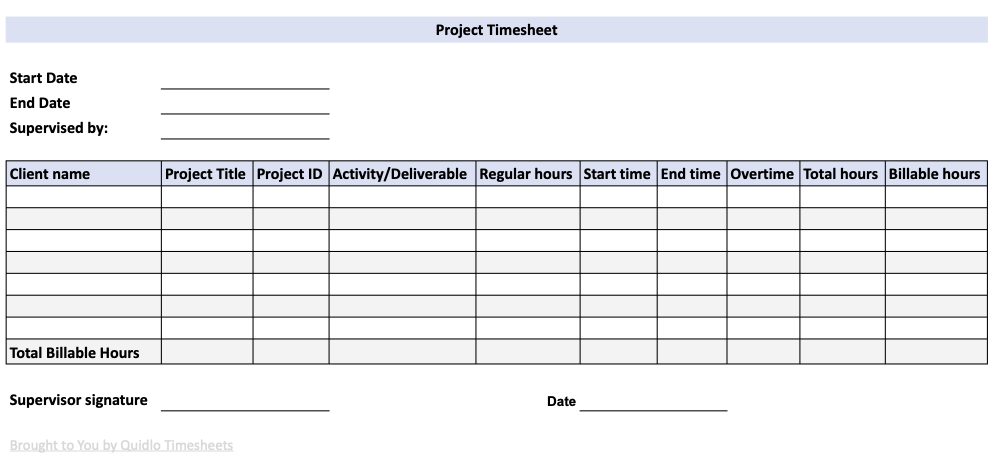 Download the project timesheet template:
👉 Project Timesheet Template For Google Sheets
👉 Project Timesheet Template For Excel
👉 Project Timesheet Template PDF
For projects that are very demanding or have multiple milestones, the project timesheet will help you record hours worked during each milestone and determine the billable hours. Information like this will help you make optimized decisions whenever you have to plan for similar projects and set budgets.
Clock-in Clock-out Timesheet Template
As the name implies, the clock-in/clock-out timesheet template takes a record of when employees clock in and out of work. One advantage of this is that it makes time tracking easier and gives you an accurate estimation of the hours worked.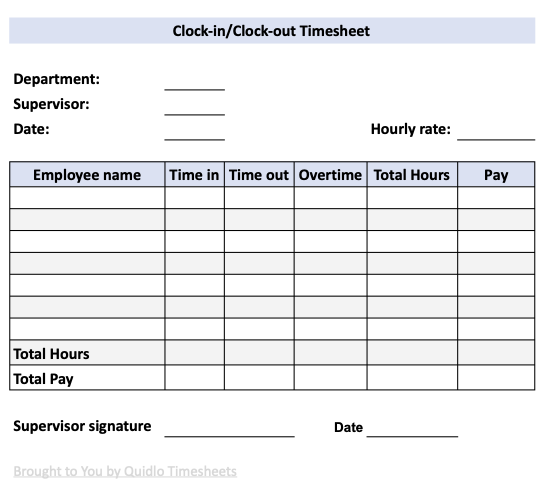 Download the Clock-in/Clock-out timesheet template:
👉 Clock-in Clock-out Timesheet Template For Google Sheets
👉 Clock-in Clock-out Timesheet Template For Excel
👉 Clock-in Clock-out Timesheet Template PDF
The clock-in/clock-out template is a simple one. For more accuracy and accessibility, it's advisable to integrate a time clock tool or app into your operations. This way, employees can easily clock in when they start working and clock out when they finish.
It's also helpful when you manage virtual teams and multiple employees. This timesheet template can be tweaked for daily, weekly, biweekly, or monthly usage.
👉 Are you a Google Sheets user? Check our free time tracking templates for Google Sheets.
Alternative to Templates – Digital Employee Timesheet Software
Keeping track of employee work hours tends to be time-consuming if you do not maximize efficient tools to help with the process. Also, because it's a repetitive activity, it can quickly get tedious or burdensome, and consistency may be difficult to achieve.
It's much harder when you have to manually record work hours using paper timesheets. Thankfully, spreadsheets came into the picture. So, you can create timesheet templates and share them with your employees to fill in their time. But this has limits too. Spreadsheets can get complicated. It's also a challenge to get real-time reports.
For instance, if you have a lot of employees, it gets overwhelming to look through spreadsheets for each one. Also, not all workers may know how to work around a spreadsheet like Microsoft Excel or Google Sheets.
So, what's the best approach? Use dedicated software like Quidlo Timesheets to simplify the process.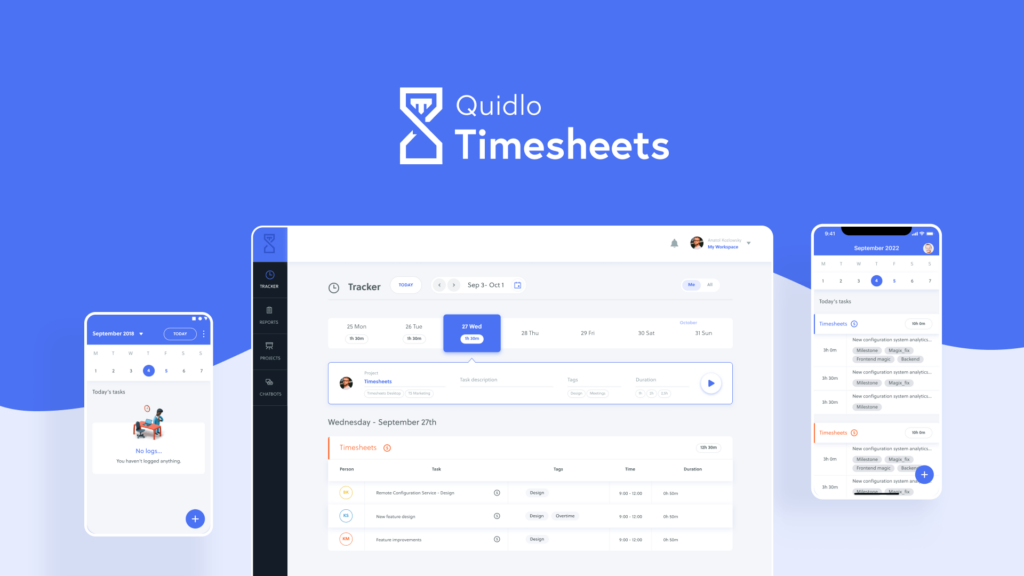 Quidlo is a user-friendly timesheet software and will do all the hard work for you. It makes it easier to maintain accurate timesheets for teams of all sizes.n
The time tracker also allows you to add tags to each task. This way, it's easier to keep entries organized.
With Quidlo, the total hours worked, and the total pay can be automatically calculated, so you can say goodbye to manually shuffling between papers or spreadsheets. The information you need is readily available when you want to run payroll for your employees or assess their productivity.
Speaking of reports, you do not need to come up with multiple timesheets for different periods, as Quidlo easily gives you daily, weekly and monthly reports on demand. These reports are quite easy to share with your colleagues or clients too.
Working with different clients? Quidlo allows you to create and manage multiple organizations so you can have more specific data for each client. Finally, the Quidlo timesheet does not leave your team behind. You can swiftly invite team members and assign roles to them.
Get started with the app for free today. The 30-day trial (no credit card required) should help you take the app for a spin before deciding if it's the perfect fit for your team.
In closing
Timesheets are essential for keeping track of work hours and managing your payroll. We've provided some free printable timesheet templates you can adopt for your organization. If you prefer spreadsheets, we've also included Google sheets and Microsoft excel timesheet templates for you.
If you choose to work with these timesheets, ensure that there's a system to enhance the process so you can get more accurate records. Otherwise, we'll recommend investing in a timesheet app like Quidlo to streamline the process, minimize errors, and promote team productivity.

2