What is the Pygmalion Effect?
The Pygmalion Effect is a term used to describe a phenomenon in the field of psychology which has been observed and documented for many years. Experts have identified applications of the Pygmalion effect in leadership, education, workplace, relationships, and even sports.
Before diving into the intricacies of the Pygmalion Effect, it is of crucial importance to understand it. The concept stems from the ancient Greek myth of Pygmalion, a sculptor who carved the statue of his ideal woman and eventually fell in love with it, adorning it with jewels and praying every night to the gods that she may come to life. Eventually, Venus took pity on Pygmalion and brought the statue to life, and the two proceeded to live happily ever after.
George Bernard Shaw took inspiration from the myth for his renowned play, Pygmalion (1912), telling the story of Henry Higgins, an upper-class linguist. The latter decides to turn Eliza Doolittle, a low-class flower girl, into his vision of a proper lady. The play offers a different view of the Pygmalion effect and has an ambiguous ending but clearly states an idea that would later serve as a starting point for researchers: "the difference between a lady and a flower girl is not how she behaves, but how she's treated."
The Rosenthal and Jacobson Experiment
The psychologists Robert Rosenthal and Lenore Jacobson applied the concept to psychology in their book Pygmalion in the Classroom, launched in 1968 and based on an experiment conducted in a Californian school in 1963. The purpose of the experiment was to determine the outcome in circumstances where teachers would treat various students differently.
Rosenthal issued a Test of General Ability and randomly chose a handful of students with high academic bloomer potential. Then, the teacher-pupil interaction was observed. Another IQ test was issued to determine how IQ improved in those labeled as intellectual bloomers compared to the control group.
The experiment found that, especially in younger children (grade 1 or grade 2), the IQ significantly increased if they carried the "academic bloomer" label. Rosenthal and Jacobson concluded that the outcome is not a consequence of intellectual ability but rather of the environment: teachers had given the supposed intellectual bloomers more support, more constructive feedback, and ultimately more kindness while paying considerably less attention to low-expectancy students.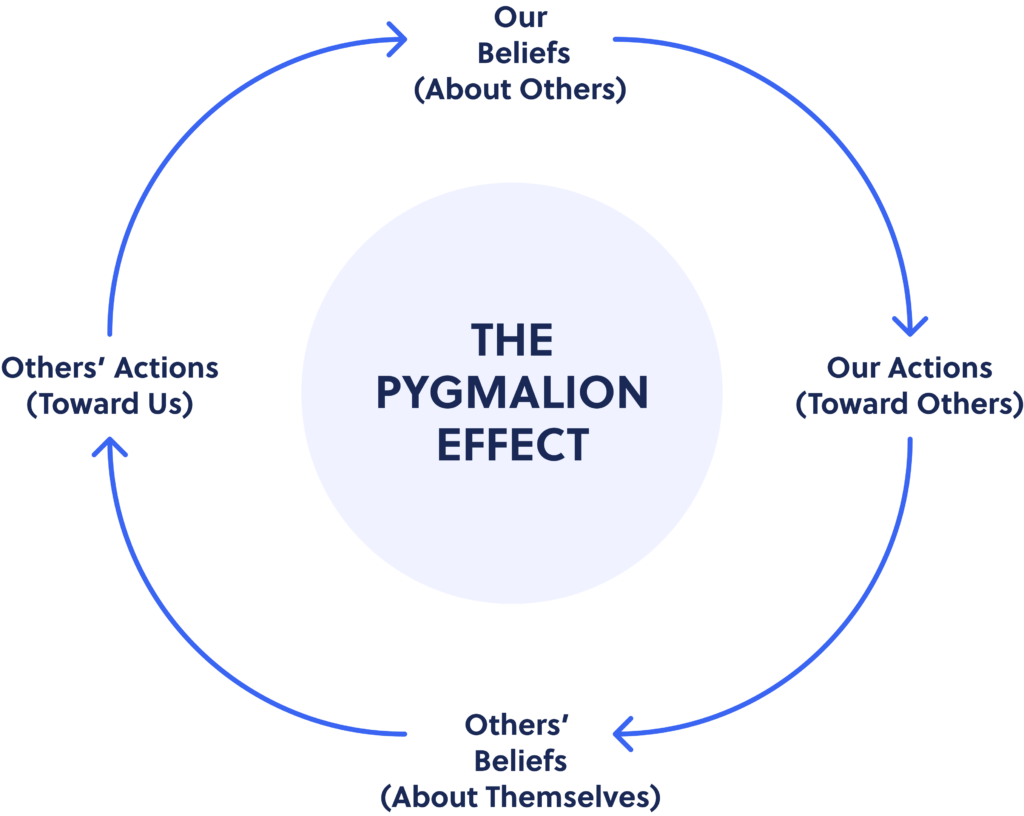 In short, the two experts reinterpreted the Pygmalion effect myth and formulated the idea that when parents and teachers have high expectations from students, their achievements increase. Up to this day, this is the most popular Pygmalion effect example. This phenomenon is also known as a self-fulfilling prophecy (SFP), which means that when you expect someone to do well or behave in a certain way, they often end up doing or acting that way because of your influence or expectations – the vice-versa being equally valid.
The Power of the Pygmalion Effect
We have already established that the Pygmalion effect is a phenomenon in which the expectations of others can influence the performance of a person or group, regardless of their pre-existing ability. In short, if you believe that someone is talented or intelligent, they'll usually act as such. This also applies to expectations about personality traits and behaviors. When an individual is expected to act a certain way, they're more likely to act that way.
The Pygmalion effect has been studied for decades by psychologists, and many different factors have been found to contribute to it: the expectations of teachers, peers, and even family members can all change how people perform in their jobs and relationships.
Rosenthal identified four key factors that amplify the Pygmalion effect: the climate, the input, the output, and the feedback. For example, students who benefit from a nurturing environment and receive involvement from figures of authority will ultimately develop the self-confidence needed to ace their academic goals and later become well-rounded adults.
It's important to remember that while the Pygmalion effect can be positive—for instance, when it motivates people to work harder—it can also be harmful. Keep in mind that another Pygmalion effect example is when teachers set low expectations for students' success and make them more likely to fail.
Examples of the Pygmalion Effect
The Pygmalion Effect – Pros and Cons
We have established that the Pygmalion effect is a phenomenon that occurs when the expectations of others influence people's self-perceptions. Just like in George Bernard Shaw's famous play, in which a professor makes a bet that he could make Eliza Doolittle, a poor flower girl, pass for a duchess at an aristocratic party, people can be influenced to improve themselves if equipped with the suitable resources.
The positive version of the Pygmalion effect is called the "Pygmalion rise" and happens when you expect someone to succeed based on your judgment of their abilities, and they do. It can be applied to professional settings, where managers can expect employees with certain characteristics to do well in their jobs and then give them opportunities relevant to those skills, which in turn help them grow into the potential they demonstrated was there. On the other hand, the negative version is called the "Pygmalion fall." This happens when people face negative expectations and internalize them to a point where they become their reality. The Pygmalion fall is also known as the Golem effect.
Furthermore, another potentially negative aspect is associated with the Pygmalion effect: people of authority and influence who set expectations may inadvertently create an environment where people are afraid to fail because they don't want to disappoint them. While high expectations can be motivating and encouraging, they may be perceived as extreme pressure and can lead to anxiety, low self-esteem, and avoidance.
The Bottom Line
In a nutshell, the Pygmalion Effect is a phenomenon in which we tend to treat others according to how we think about them or perceive them. Some experts qualify it as a self-fulfilling prophecy. If you see someone as intelligent and competent, that person has a great chance of being perceived by others as such and behaving according to your expectations. On the contrary – poor attitude and behavior may contribute to an undesired perception from others, which might negatively affect their performance.
We hope that this has been an insightful journey into the depths of the Pygmalion Effect. This article aims to provide a comprehensive yet easy-to-understand look at how and why this theory can be so practical. For some people, it is about identifying unconscious patterns of thought; for others, it is about self-fulfilling prophecies; and for others still, it is about setting your standards high. Regardless of how each individual relates to the concept, the Pygmalion effect spans each area of life and has the power to impact our relationships with those around us and ourselves.
6